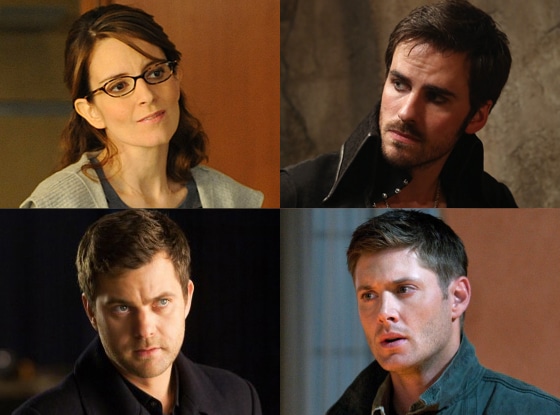 NBC; ABC; FOX; CW
Who knew Hook could be so damn hot?!
We just cannot get enough of Once Upon a Time's Colin O'Donoghue, aka Captain Hook, so we are just going to keep on giving you guys spoilers on his character and what's coming up on the ABC hit. Plus, we have a blind item that involves a wedding, so you might want to get your speculating caps on. All that, plus scoop on 30 Rock, Supernatural, How I Met Your Mother and more in today's Spoiler Chat:
Becca: Any scoop when Captain Hook will see Rumplestiltskin again on Once Upon a Time?
"We haven't gotten there," Colin O'Donoghue says of Hook and Rumple's highly anticipated reunion (they were filming episode 10 when we spoke to the Irish actor). As for who would win in a fight when they do come face-to-face again? "I'm going to say that Hook as the advantage because I play Captain Hook, so I'm not going to give into Rumplestiltskin!" he says with a laugh.
Ariel in New York City: NYC is going through a hard time right now. Any scoop on How I Met Your Mother and how the characters will survive Hurricane October Breakup?
How I Met Your Mother will definitely be facing a storm of relationship drama in the next couple episodes, and how the characters deal with it will set the tone for the rest of the season. And yes, Barney and Robin do share a couple of special moments amongst the emotional debris. Stay safe up there in NYC, Ariel!
Meg in Los Angeles: Scoop on Once, Grey's, Happy Endings, New Girl, Revenge, Big Bang Theory or all of the above!
Yowza, that is quite a list. How about we give you scoop that is related to one of those shows? But here is the kicker: We won't tell you which show it is. In episode 12, a wedding planner will be involved and she will butt heads with a main character. Who's headed down the aisle? Now, we can't tell you that! So start speculating!
Eddie: Not much 30 Rock scoop coming from you guys…and it's the final season! I'll forgive you for some good Jack-Liz spoilers.
An upcoming tragedy will bring Jack and Liz together in a way that 30 Rock has not done before. And when we say "tragedy," we mean a real one. Not one like: Jenna is making a sequel to Rural Juror. Although that would be equally horrible.
Daniel: Supernatural scoop please!
Supernatural is once again dabbling with time travel! This time, it's not the boys heading back in time, but a cult member named Henry (think Cary Grant meets Robert Downey Jr.) traveling from 1958 traveling to 2013. And it seems like he brings something pretty important along with him… 
G.L.: You know I want Fringe info!
We always know what our readers want. We are psychic. Also, you guys tell us all the time. Anyway, mark your calendars for Friday, Jan. 18, because that is when the final two episodes of Fringe air back to back on Fox. What will Fringe's send-off be like? Joshua Jackson told us in his own words: "The place that they're trying to take the characters at the end, at least for me, seems like a satisfying and in some ways almost logical, sort of necessary ending for each one of these characters."
Candice in Portland: I'm a fan of Emily Owens on the CW, so any scoop on that would be awesome. Thanks!
You might want to brace yourself for episode 11, because it will be a doozy. A huge bus crash sends numerous people in various states (from slightly injured to near-death) to the E.R. all at once, which means our heroine Emily will have her hardest day yet at the hospital. And that's in terms of both medical problems and emotional drama. Do you think she's up to the task? 
—Additional reporting by Jenna Mullins and Tierney Bricker

Want your TV questions answered in our next Spoiler Chat? Email them to tvdiva@eonline.com or tweet at @KristinDSantos!