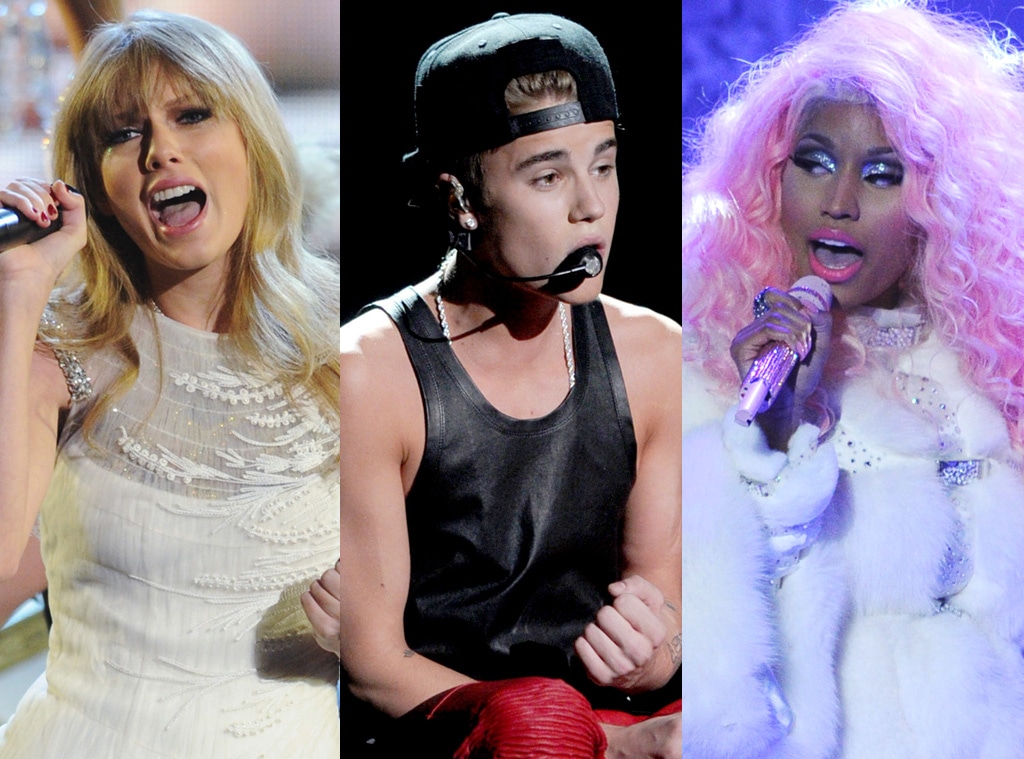 ABC/TODD WAWRYCHUK; Kevin Winter/Getty Images
Don't you just love award shows?
Tonight was the 40th anniversary for the American Music Awards, held at the Nokia Theatre in Los Angeles and hosted by none other than Ryan Seacrest.
But in case you missed out on all the fun, we've boiled it down to the most noteworthy moments from the show, including a complete winner's list!
Most Endurance Award Goes To..: We all know Usher's got the moves (which he so graciously passed on to Justin Bieber), but all the dance breaks during his performance at the show's open deserves props. He was literally running at one point.
Best Use of Sass: OK, Bieber, we see you. The young pop singer won tonight's first award for Favorite Pop/Rock Male Artist, and started his acceptance speech with, "This is for all the haters who thought that maybe I was just here for one or two years. But, I feel like I'm gonna be here for a very long time." And ended it with a Z-snap. Just kidding (but he totally should have).
Worst Separation Anxiety: So, Carly Rae Jepsen performed her new song, "This Kiss." It's not that it was bad, but it was no "Call Me Maybe." We're just not ready to see her sing something else. Luckily, she included the annoyingly catchy song in her performance.
Best Attempt at Saving Paper: There were no envelopes tonight. Nope. Winners were revealed through a Samsung Galaxy Note 2. Oh, you fancy, huh? Yes, yes they are.
Worst Crowd Reaction: Kelly Clarkson's medley of her greatest hits reminded us why we fell in love with her in the first place. But when she held the microphone out for the crowd to sing, "Since you been gone," nothing was sung. Oops.
Best Girl Power Moment: Nicki Minaj took home two awards, one for Favorite Rap/Hip-Hop Album and also Favorite Rap/Hip-Hop Artist. Super-exciting, right? But for whatever reason, she just seemed tired (or other things) on stage.
Worst Lady Gaga Impersonation: Seriously, Ke$ha, what's going on with those leotard outfits? And you didn't even throw glitter and make it rain.
Hottest Rockstar Mom: The mystery of the night is this: Does Gwen Stefani age? No, really. When she took the stage with No Doubt it was like it was 1995 again (in a good way).
Best Surprise: It seems like Red is introducing fans to a whole new side of Taylor Swift—well, it still has to do with boys, but when she performed "I Knew You Were Trouble" from her upcoming album, she was all on the floor and whipping her hair. We likey.
Cutest Acceptance Speech: Aw, gee, Luke Bryan! The country crooner took home his first AMA and was like a little kid on Christmas. Between his dancing and "woo"-ing, he mentioned his little kids, "Tater Bug and Bo Bo." Too stinkin' cute.
Best Use of an Adult Diaper: Minaj rocked some white, sparkly underpants for her performance, which may or may not be an adult diaper. Probably not, but just so you know.
This Just In: Singer Pink is apparently a master at expressing herself through the art of dance (with the help of body paint), as she showed the audience when performing an interpretive piece along with singing her song "Try."
Kevin Winter/Getty Images
Interesting Change of Pace: Ditching the flashing lights and dance moves (at least for the first half of his performance) was Biebs, who sang "As Long As You Love Me" while sitting on a bar stool next to a guitarist. Maybe a certain something and someone inspired him? (Hi, Selena Gomez!)
Best Addition: Whether you love or hate it, house music has made it's way to the AMAs. For the first time ever, the awards show has included an Electronic Dance Music category to honor the top deejays in the industry. This year, it was all David Guetta.
What the Heck Moment: Christina Aguilera's performance was, um, interesting. Her song was to celebrate everyone for who they are (a little "Born This Way" type), which is great. For once, she wasn't the one wearing the most makeup on stage.

Best PDA: Presenter Jenny McCarthy (who was workin' those eyeglasses) kissing Bieber all over the neck and even grabbing his bum when he got on stage to accept his second award—a display she described afterward as "cougar rape."
Best Decision: Thank goodness, Chris Brown decided to shave off his highlighter hair. That didn't seem to help with the heat though, because he still took off his shirt while jumping around like a maniac on stage.
Worst Outfit: Look, Carrie Underwood's performance dress was not bad at all. The problem was that it practically hid those legs that everyone loves seeing so much. Not cool.
Best Party Pal: Who wants to party with Pitbull? Everyone. That guy is just a ball of Cuban fun and energy.
Greatest Ending Ever: Don't lie, you know the dance—PSY got the crowd going with "Gangnam Style." And just when you thought it couldn't get any better, MC Hammer got on stage and they mixed the Korean dance song with "Too Legit to Quit."
Here's the complete list of winners for the 2012 American Music Awards:
Artist of the Year: Justin Bieber
Favorite Pop/Rock Male Artist: Justin Bieber
Favorite Pop/Rock Female Artist: Katy Perry
Favorite Pop/Rock Band/Duo/Group: Maroon 5
Favorite Pop/Rock Album:  Believe, Justin Bieber
Favorite Country Female Artist: Taylor Swift
Favorite Country Male Artist: Luke Bryan
Favorite Country Band/Duo/Group: Lady Antebellum
Favorite Country Album: Blown Away, Carrie Underwood
Favorite Rap/Hip-Hop Artist: Nicki Minaj
Favorite Rap/Hip-Hop Album: Pink Friday: Roman Reloaded, Nicki Minaj
Favorite Alternative Rock Music Artist: Linkin Park
Favorite Electronic Dance Music Artist: David Guetta
Favorite Soul/R&B Male Artist: Usher
Favorite Soul/R&B Female Artist: Beyoncé
Favorite Soul/R&B Album: Talk That Talk, Rihanna
Favorite Adult Contemporary Artist: Adele
Favorite Latin Artist: Shakira
Favorite Adult Contemporary Inspirational Artist: tobyMac
New Artist of the Year: Carly Rae Jepsen
Favorite Pop/Rock Artist, Male: Justin Bieber Favorite Country Artist, Female: Taylor Swift Favorite Rap/Hip-Hop Album: Pink Friday: Roman Reloaded, Nicki Minaj Favorite Alternative Rock Music Artist: Linkin Park Favorite Soul/R&B Artist, Male: Usher Favorite Country Artist, Male: Luke Bryan Favorite New Artist: Carly Rae Jepsen Favorite Country Band, Duo or Group: Lady Antebellum Favorite Electronic Dance Music Artist: David Guetta Favorite Pop/Rock Album: Believe, Justin Bieber Favorite Rap/Hip-Hop Artist: Nicki Minaj Favorite Country Album: Blown Away, Carrie Underwood Artist of the Year: Justin Bieber
Read More at: http://hollywoodlife.com/2012/11/18/american-music-awards-winners-2012-list-ama/#utm_source=copypaste&utm_campaign=referral
Favorite Pop/Rock Artist, Male: Justin Bieber Favorite Country Artist, Female: Taylor Swift Favorite Rap/Hip-Hop Album: Pink Friday: Roman Reloaded, Nicki Minaj Favorite Alternative Rock Music Artist: Linkin Park Favorite Soul/R&B Artist, Male: Usher Favorite Country Artist, Male: Luke Bryan Favorite New Artist: Carly Rae Jepsen Favorite Country Band, Duo or Group: Lady Antebellum Favorite Electronic Dance Music Artist: David Guetta Favorite Pop/Rock Album: Believe, Justin Bieber Favorite Rap/Hip-Hop Artist: Nicki Minaj Favorite Country Album: Blown Away, Carrie Underwood Artist of the Year: Justin Bieber
Read More at: http://hollywoodlife.com/2012/11/18/american-music-awards-winners-2012-list-ama/#utm_source=copypaste&utm_campaign=referral