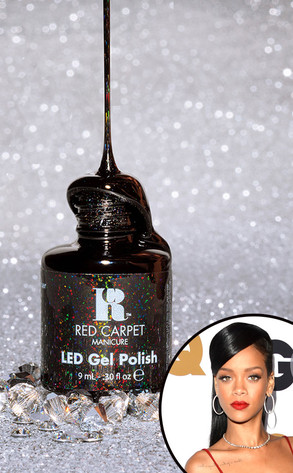 Alberto E. Rodriguez/Getty Images, RCM Gem Polish
If you're planning on tuning into this weekend's 40th American Music Awards, you might want to pay special attention to the manicures on some of your favorite performers. It's quite possible that Rihanna (and several other stars such as Katy Perry, Christina Aguilera or Pink) could be shining bright like diamonds for Sunday's main event.
Red Carpet Manicure will be backstage with celeb manicurists Michelle Saunders and Kimmie Kyees offering luxe gel manicures with their newly-unveiled Set in Stone shade, an inky black polish packed with four carats of genuine diamonds. Yes, real diamonds! The result? A glimmering night sky effect that lasts for weeks.
As if that weren't awe-inspiring enough, the brand is also adding a charitable element to the treatment. For every celeb who picks out the pretty gem-studded shade, RCM will donate $1,000 to the American Red Cross.
Glamorous and giving? We like the sound of that.