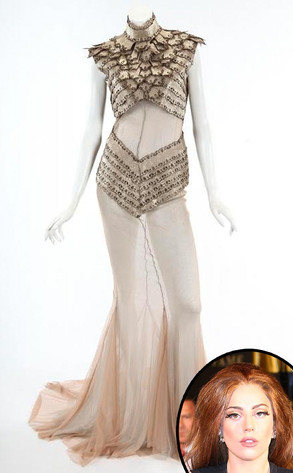 Tim Whitby/Getty Images; Courtesy: julienslive.com
For all of you die-hard Lady Gaga fans out there, the time has finally come to get your paws on some of her most iconic costumes! That's right, the star is auctioning off a few of her most memorable accessories (including the outlandish sky-high headpiece worn during her 2010 Monster's Ball tour as well as the eerie Keko Hainswheeler face mask constructed of rusted nails, washers and safety pins as seen in her "Bad Romance" video) on Julien's Block.
And while all of the memorable pieces are certain to be incredible collector's items, the priciest and most elaborate would be her "Ecstasy Gown," an intricate design by Eddie Gavriilidis boasting laser cut bands of gold python leather and nude mesh. With the starting bid set at a firm $5,000, the dress is bound to go to a rather fancy fan with deep pockets.