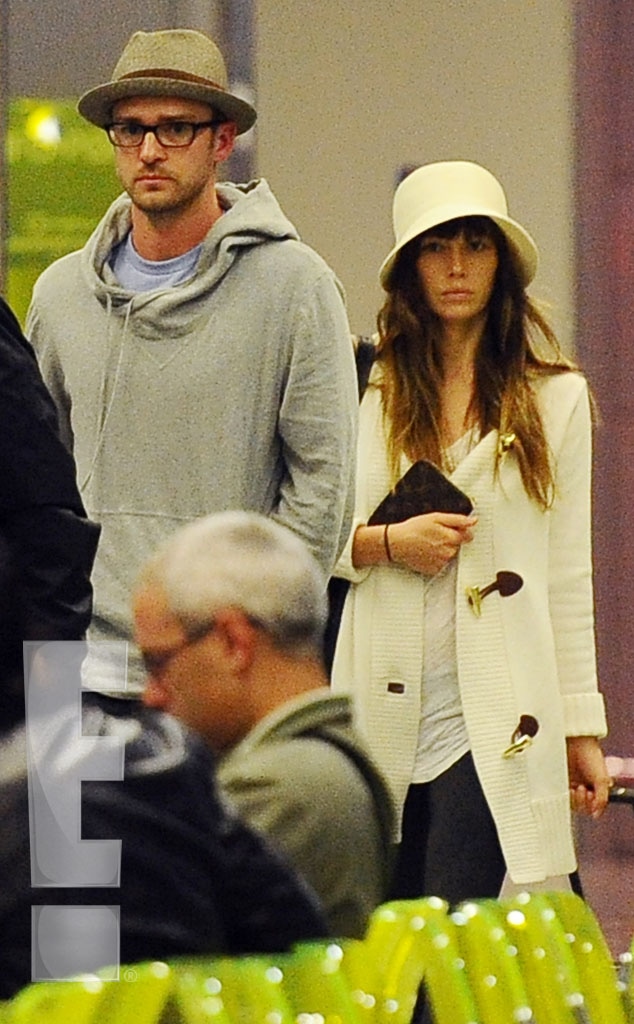 Splash News
For newlyweds Justin Timberlake and Jessica Biel, it was an affair to remember.
Five days after they tied the knot in a romantic ceremony at the Borgo Egnazia resort in the southern Italian city of Fasano, details and pictures are finally emerging about the magical affair—from the gorgeous pink wedding gown the 30-year-old actress wore to the song the 31-year-old singer-actor serenaded her with as she walked down the aisle.
Timberbiel's nuptials are featured in the latest issue of the U.K.'s Hello! magazine, which features a photo of an ecstatic Timberlake jumping for joy next to his blushing bride.
In the issue, Biel tells of having "butterflies" as her father, Jon, started to walk her down the aisle.
"I was about to stand up in front of my friends and family and bare my soul for the person I love. It was terribly emotional," she told the magazine.
But the erstwhile 7th Heaven star instantly felt at ease the moment she laid eyes on her soon-to-be hubby, who was waiting for her in the resort's piazza.
"I felt calm," she added. "I thought, 'I got this. We got this.'"
Biel looked absolutely stunning in a custom, light pink Giambattista Valli strapless dress and carried a bouquet of chamomile, ranunculus and ruscus, while Timberlake sported a tuxedo designed by Tom Ford.
But things quicky turned emotional again when Justin surprised her with an original song he wrote and performed just for the occasion as his longtime love came down the aisle.
"That definitely started the tears," said Biel. "Not just for me, either. For pretty much everyone who was there!"
Added Timberlake: "I figured if there was something I was going to be able to offer, it would be to sing her down the aisle. Grown men were weeping. Hopefully it's because I didn't sound bad."
We doubt it, J.T.
During a candlelit nondenominational ceremony that was officiated by the couple's close friend, director Bill Purple, the twosome traded handwritten vows expressing their love and devotion and sealed the deal with gold bands with a hammered finish, courtesy of designer Leor Yerushalmi of the Jewelers of Las Vegas.
They also shared plenty of laughs with those family and close friends in attendance, which included such celebrity guests as Jimmy Fallon, Andy Samberg, Timbaland and Biel's 7th Heaven costar Beverley Mitchell (though reportedly not invited were Justin's 'N Sync bandmates. Lance Bass' rep, for his part, told E! News that the singer has been busy with his radio hosting duties).
Said Timberlake: "To hear all of our family and friends cheering at extremely loud, inappropriate decibel levels, that became the pinnacle of the ceremony. It felt perfect. It felt like everything came together."
According to the duo, planning for the top-secret destination wedding began shortly after the former 'N Sync-er popped the question last December during a winter ski vacation in Big Sky, Mont. They settled on the Puglia region of Italy and the Borgo Egnazia, which has sweeping views of the Adriatic Sea, not only for its beauty but because they love to eat, said Jessica.
Shortly after becoming Mr. and Mrs., the couple and their guests moved the celebration to an al fresco bar for cocktails and hors d'oeuvres such as lobster in turnip tops and mini caprese salads. After that, dinner got underway with a four-course meal featuring steak and sea bass and concluded with the classic Italian dessert affogato (a scoop of ice cream topped with a shot of espresso).
One of the highlights of the evening was when Timberlake took Biel's hand for their first dance, which was to Donny Hathaway's "A Song for You," for which both had a mutual appreciation. The entire wedding party then boogied down the rest of the night to a combination of retro '60s classics and hip-hop hits spun by DJ Questlove.
Timberlake also gave an impromptu speech during the reception, thanking their guests and cracking jokes.
The bash wrapped up around 5 a.m. with Justin and Jessica the last ones on the dance floor, according to Biel, who said that while she's keeping her professional name, she loves Justin's last name.
She is also excited the two are going to spend the rest of their lives together, saying, "That kind of commitment is very special, and we were ready to jump."