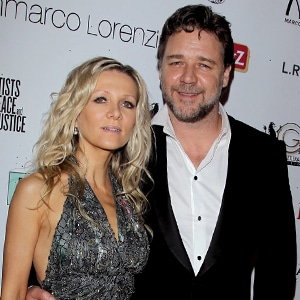 George Pimentel/WireImage
Russell Crowe is finally confirming for the first time what was widely reported earlier this month: He and wife Danielle Spencer have separated.
The 48-year-old Oscar winner addressed the breakup of his nine-year marriage to the 43-year-old dancer in a message to a follower on Twitter.
Per the Sun, a fan named Sarah tweeted him, "Heard about your separation today. I said a prayer for you and your family."
To which Crowe replied: "Hey Sarah, that was very kind of you. Thank you for your thoughts."
The erstwhile Gladiator star wasn't done, however. He subsequently retweeted someone else's post, which nodded to the difficulties he's experiencing being apart from the two sons he and his musician-wife have, 8-year-old Charles and 6-year-old Tennyson.
"This morning I'm sending out positive connective energy to any dads who are separated from the kids they love," read the tweet.
Crowe, who met Spencer when the two played lovers in the 1990 movie The Crossing, is currently in New York shooting Darren Aronofsky's biblical epic Noah.
But despite the pain Russell's enduring in his personal life, he's doing his best to channel his energies into a healthy lifestyle, regularly tweeting his workout routines, which often include a multiple-mile walk, bike ride or time on the elliptical and weights at the gym.
And the good news is Crowe hasn't lost his sense of humor, particularly with regard to the Santa Claus-style beard he's sporting for his latest role.
"The beard will be gone mid November so, no, I'm not booking Christmas shows," the Aussie actor noted.
Crowe next hits the big screen in rapper-turned-director RZA's martial arts flick, The Man With the Iron Fists, unspooling Nov. 2.