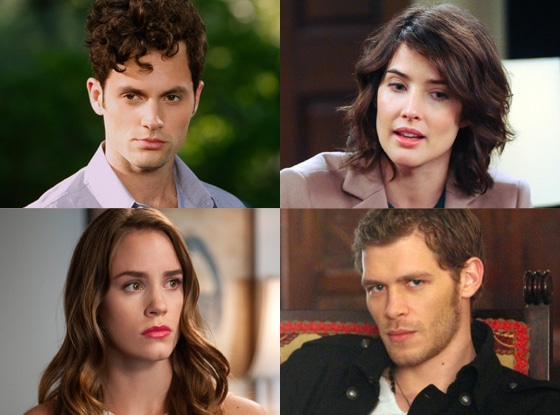 CW; CBS; ABC
Warning: Newbies are taking over your favorite shows!
Luckily, said newbies are pretty freakin' awesome, like Secret Circle (RIP, yo!) scene-stealer Phoebe Tonkin, who is set to pay a visit to Vampire Diaries next week, Danai Gurira, the breakout star (already!) of The Walking Dead's new season, a new love interest on How I Met Your Mother (OK, maybe this one isn't so awesome), as well as some handsome new faces on Revenge. And guess what? We've got scoop on all of them, plus spoilers on Gossip Girl, Elementary, New Girl and more!

Caitlin: Is it sad that I still hope Dan and Blair will get back together on Gossip Girl?
Unfortunately yes, it is a bit sad as a little bird tells us that the duo formerly known as Dair will barely be interacting in the first half of the season. That romance is officially dunzo. For real.
Tasha: Any scoop on Phoebe Tonkin's character on TVD? Can't wait to see her back on TV!
We chatted with the CW hit's gorgeous new lady wolf about her character Hayley and Tonkin tells us that viewers can expect to see her go up against Klaus. "She kind of speaks before she thinks, especially to people that are probably a little bit dangerous," she teases. "I think her mouth could get her into trouble…possibly!" Unfortunately, Tonkin won't be sharing scenes with her real-life BFF Claire Holt, who plays Rebekah on the show, as we're hearing the Original vamp will be absent for several episodes. (You can blame her bro Klaus for that.)
Jim in Chicago: The Walking Dead premiere was amazing! I need to know what's next?
Danai Gurira, who plays the badass Michone, talked to us about what to expect from Walking Dead's third season. "A lot of zombie slaying, and then a lot of people clashing. Fear the living," she says. "Fight the dead, but now you have to deal with the living," she says. And so the clash of people becomes a big part of this season. You know the Governor is coming. Trust me, it'll be so unpredictable…don't even try [to guess]. They really take it to the hills every time." And we will follow that show blindly into those hills.
Katie C.: Wanting Revenge scoop with a vengeance, please!!!
Christa B. Allen tells us that Emily's plan is about to go global! "I can tease that Emily [will be] getting involved with people from around the world," she says. "You see people getting involved with her revenge plot that you never would have expected. Lots of new people coming onto the scene." New faces means new drama, and we love it!
Sophia: Now that Quinn is gone, when will Barney and Robin finally get together? #HIMYM
Based on this photo from the Nov. 5 episode, it looks like they are right on the cusp of couplehood, right? Not so fast. Barney will start a relationship soon after, and it's with someone we've met in the past. Not only that, it's someone who has pissed off Robin in the past. Cue the HIMYM fireworks!
Christine: Elementary is my new favorite show! Got any scoop on what's coming up?
We've heard plenty about Sherlock's father, but now it's time to learn about Watson's family. The show will be introducing Mary, her elegant mother, later this season and let's just say she's not a fan of her daughter's new gig. In fact, she called her a glorified babysitter. Of course, if there's anyone who can charm Mary into changing her opinion, it's Sherlock...
Gabe: If you don't give me some New Girl scoop I will force you to put money in the douchebag jar!
Break out those dollar bills because New Girl is hitting a strip club! Shockingly enough, it's Nick, not Schmidt, who is hitting the club, but not to check out the ladies. (It's a long story.) Of course, one of the dancers isn't too pleased with Nick's lack of interest, so she pulls a knife on him. Chaos ensues, natch.
Pete: Spill about Brody and Carrie's reunion please.
Brody leaves Jessica, and he and Carrie run away together and live happily ever after! That was just cruel right? Come on, it's called Homeland not Honeymoonland. You can expect some solid sexual tension though when they meet again. Brody learns Carrie is back working for the CIA and this makes him super paranoid.