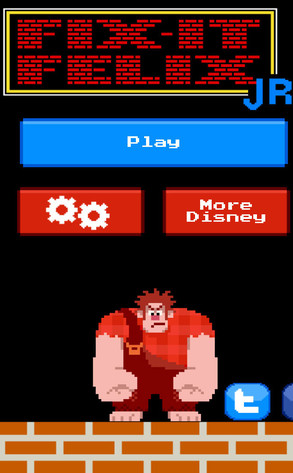 Disney
A clever and addictive tie-in to Disney's upcoming Wreck-It Ralph movie, Fix-It Felix Jr. is now a free download on the iPhone. Featuring sprite graphics, synth sound and wonderfully wonky controls, it's a tasty 100-point cherry ode to the golden age of 8-bit gaming, à la Galaga and Dig Dug.
It's a retro revelation, a satisfying new addition to a genre we thought was long-dead. Kind of like The Artist, but with tiny flying ducks.
The game's goal is simple: fix all broken windows and doors of an apartment complex after the titular Ralph has gone and wrecked it. Watch out for the falling bricks and ducks (clearly visiting from Nintendo's classic Duck Hunt) and pick up windowsill pies for health!
That blocky, twitch-oriented look is refreshingly not at all like the M-rated HD games that sell Xboxes these days. Maybe that's why 2-D side-scrollers have been making a comeback lately, with their simple controls and challenging puzzles.