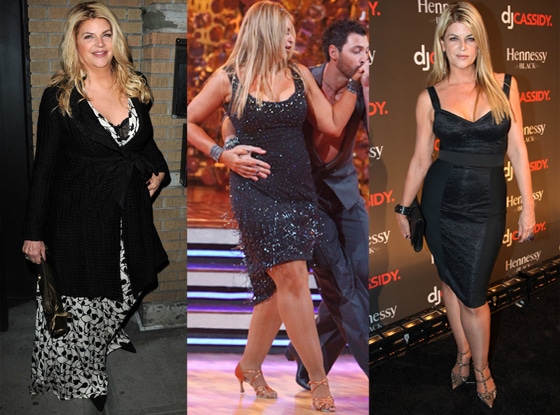 Brian Zak/Sipa Press; ABC; Johnny Nunez/WireImage
Fifteen seasons in, we know just how hard the celebs who sign up for Dancing With the Stars are working—and not just because half of them are limping around with strained groins and bum knees.
Rather, we've seen the physical transformations that have taken place after hours spent busting their butts in rehearsal. Every season, a number of celebs quickstep and cha-cha their way to slimmer waistlines, tighter muscles and just healthier lifestyles in general.
Check out five of Dancing With the Stars' most impressive body makeovers:
1. Kirstie Alley: Cheers to the former Fat Actress star, who lost so much weight—a whopping 100 pounds—thanks to Jenny Craig and her rigorous DWTS rehearsal schedule, people started thinking she'd had surgery! "NO surgery, NO flippin lasers, NO barfing, NO starving...Jeez...my products, organic food, dance," she tweeted a few months after her second-place finish on the show's 12th season. She's back burnin' calories up the ballroom with DWTS' current all-star group.
/Adam LarkeyABC; Jamie McCarthy/WireImage
2. Kelly Osbourne: The Fashion Police cohost lost 20 pounds en route to a third-place finish on season nine, and she later said that going on the show was a turning-point in what had been a life-long struggle with her weight. "[Partner Louis van Amstel] made me eat turkey burgers and salads and explained to me that a high-protein, low-carb diet would keep me energized," she told Shape. "Then I started losing weight and realized, 'Oh, it's true what they say: Diet and exercise really work!'"
Gregg DeGuire/WireImage; ABC/CAROL KAELSON; Ethan Miller/Getty Images
3. Joey Fatone: The skinny Minnies get all the attention, but the male contestants are shaping up, too! It wasn't a surprise that the cuddly former 'N Sync singer had rhythm—but no one expected him to be that light on his feet. And he only got lighter as season four went on, losing more than 20 pounds on his way to coming in second. He may have been runner-up, but his buoyant charm was tops in our book.
Jason Merritt/Getty Images; ABC; Jason Merritt/Getty Images
4. Ricki Lake: The talk show host set a very strict goal for herself when she went on DWTS last fall—no trying on wedding dresses until the competition was over! Well, not only did she make it all the way to the finals, she lost more than 20 pounds and tied the knot this spring in a substantially smaller gown. "I'm dropping weight like crazy," she told Access Hollywood, just weeks into the season. "My pants are falling off."
Jason Merritt/Getty Images; ABC; Ethan Miller / Getty Images
5. Marie Osmond: No wonder the fan favorite passed out from exhaustion during a live show—she was literally working her tail off! "I'm down 31 pounds so far," she told OK! magazine midseason in 2007. "I've lost about five inches off my hips and five inches off my waist. I've added muscle mass and I am much more toned. It's incredible. The show should be called 'Dancing With the Starved'!"