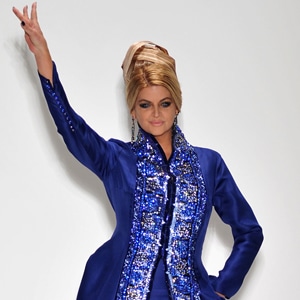 Mike Coppola/Getty Images
Kirstie Alley is feeling sexy and it shows.
The Dancing With the Stars alum must be receiving a lot of comments on her newly svelte bod, because she's thanking her fans via Twitter for their compliments on her recent photo shoot.
She's also clearing up any rumors she's gone under the knife to maintain her youthful look...
"Thank you for all your SWEET comments," the star tweeted to fans about her People pics. "NO surgery, NO flippin lasers, NO barfing, NO starving...Jeez...my products, organic food, dance."
Alley dished to E! News during New York's Fashion Week that she's kept on dancing after DWTS and credits her moves to keeping the weight off.
"I'm still dancing, yes," she said, when we asked her how she was looking so good. "I dance every day."
The actress also told us she was feeling the best she's ever felt in her entire life, with just one exception.
"I'm just missing my prince. No, make that my king," she joked to us.
Overall, Kirstie has lost a whopping 100 pounds and is now proud of her size 6 appearance.