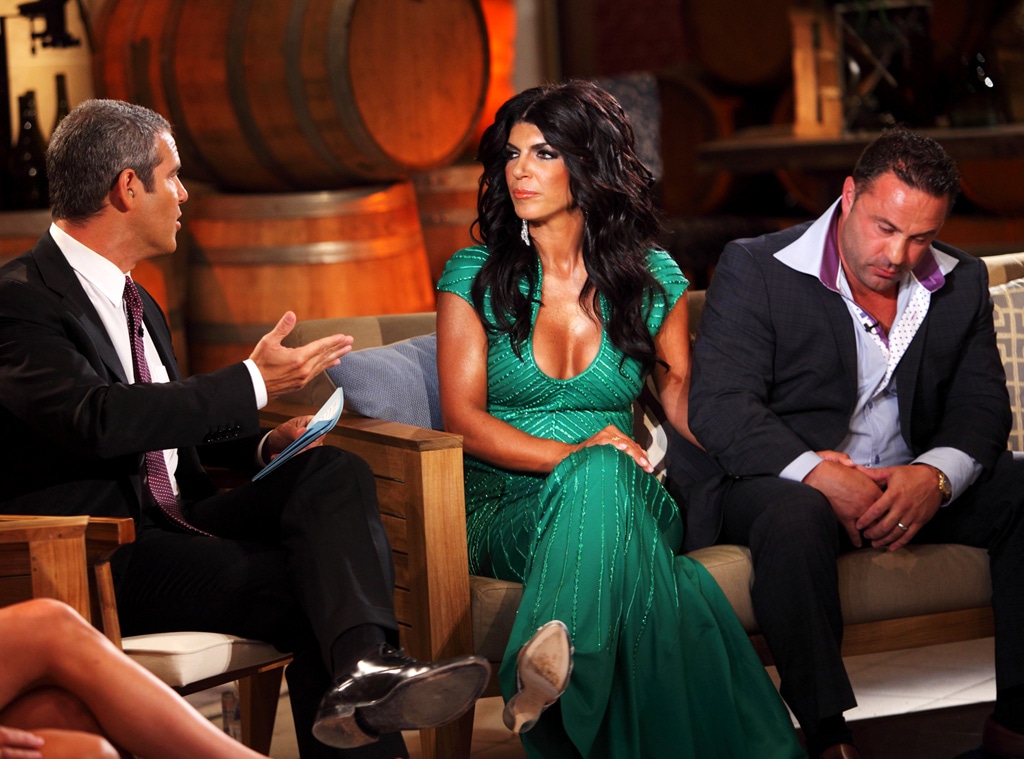 BRAVO
"Why am I here?" asked Joe Giudice on tonight's insult-filled episode of the Real Housewives of New Jersey.
Good question. Juicy Joe might as well have sworn to live by code of Omertà—the man wasn't spilling anything on the second of a three-part reunion special.
If viewers were hoping to find out who was on the other end of Joe's giggly, trash-talking phone call in Napa, they were out of luck.
According to Teresa Giudice's hubby, his phone pal was Albie (presumably not Albie Manzo). "A friend of mine, a long time friend of mine that was taking care of things back home."
Even an incredulous Andy Cohen had to pick his jaw up off the floor after that one. But as Joe's logic goes, "If I was talking to a girlfriend, I probably would have ripped my mic off and threw it in the bushes."
What Joe did reveal is that the insults he flung at Teresa—calling her a bitch and a c--t—cost him big time. Three days of arguing and several trips to the jewelry store, to be exact. He also denied that Teresa's cookbook earnings support the family. "I pay the bills." And, for the record, Joe claimed he's never cheated.
While Joe played the supportive hubby and failed to clear up his mystery phone call, the rest of the women made up for it by slamming each other.
Tonight's episode had little of last week's heart. Even Rosie Pierri's segment about coming out to Kathy Wakile's kids zipped by too quickly to make any significant impact on the overall mood of the show. Things got ugly fast and no nip, tuck or filler could improve the situation.
Teresa claimed that Chris Laurita cheated on Jacqueline: "That's why you told me you don't trust him. That's why he's not allowed to go out."
You could almost see Jacqueline snapping her fingers when she fired back, "If you want to go there..." According to her, Teresa's complained that Joe cheated several times with a secretary, a babysitter and a mystery woman. "Honey, you walked in on your husband when he had someone on the desk in his office and you told me that." (Though that might be the secretary we're still talking about?)
Melissa Gorga also got a chance to air her grievances after being accused of lip-synching (a charge she denies). She hinted that Teresa and Joe don't have the fairy-tale romance she found with Joe Gorga, she accused Tre of tweeting pictures of dishes actually cooked by her mother and revealed that she's actively seeking to distance herself from Teresa.
When Andy asked why Melissa and Joe would sell their custom-made mansion, Melissa told him she doesn't want their kids going to school together. "I see where it's going and I have one little girl and I don't want them ganging up on my daughter."
Tre got in her own digs, claiming Melissa was an opportunist who "came on the show to destroy me" and mocking her singing abilities.
Caroline Manzo might have said it best with her wake up call to Teresa, "This is 15 minutes of fame. You're going wake up one day and be alone." The problem is, no one actually seemed to be paying attention.
So did you buy Joe's excuse about his old friend on the other end of line? With all the accusations flying around tonight, which rumor did you actually believe (Chris cheated; Teresa doesn't cook her own food; Melissa's out to get her sister-in-law)? And were you shocked by Teresa's claim that "On Display" was written about her? Sound off on all things Jersey in the comments!
(E! and Bravo are both part of the NBCUniversal family.)