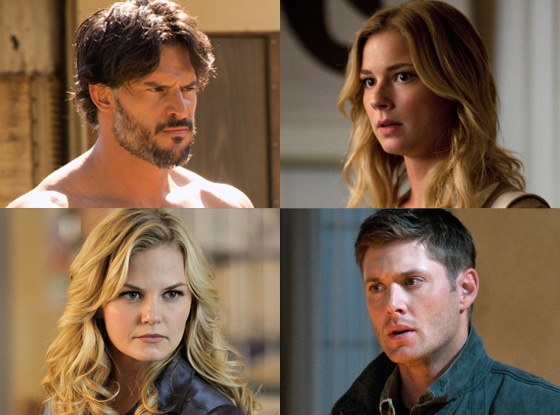 HBO; Chris Helcermanas-Benge; Colleen Hayes/ABC; The CW
Even though he'll be juggling two love interests this season (in a bisexual love triangle, no less!), Revenge's Nolan Ross still can't help but feel a little jealous.
Why, you ask? Well, we've got the answer to that in today's Spoiler Chat, plus details on Joe Manganiello's highly anticipated return to How I Met Your Mother and scoop on Emma's love life on Once Upon a Time. 
You'll also find scoop on two very fun Supernatural episodes (cartoons!) and intel on Troy and Britta's Community romance...
Erin from Chicago: So happy Revenge is back! Loving that Emily and Nolan are roommates. What can you tell me about their relationship this season?
Love Nemily too! We'll let the always adorable Gabriel Mann take this one: "That would be too simple, wouldn't it? To BFF it up the whole season?" Mann teased. "I think we start from the nice place that we ended last season, and then the car just starts going faster and faster and faster. I will tease the addition of our new friend from the U.K., who plays Aiden. I don't know that Nolan is going to be loving the new love interest."
David B.: Any scoop on Joe Manganiello's return to HIMYM? I've missed Brad!
Oh, we missed that brunch-lovin' bro, too! Someone who probably didn't miss Brad? Marshall, who will be going up against his former BFF/current nemesis in court, which could prove to be a real challenge considering the judge and jury are pretty into Brad's physique. Can't say we blame them!
Danielle: Once Upon a Time scoop, please! Maybe something about Emma's love life?
Though she's currently stuck in fairy-tale land for the foreseeable future, Emma will be getting a love interest this season. Or make that several proper love interest.  "Last year, she had to be the whole savior thing and I'm-a-new-mom thing, so I would be bummed out if we didn't see a few suitors come her way," Edward Kitsis teases. While he wouldn't say who the suitors would be, he did share, "There may be a few people we haven't met yet." 
Jonathan: What's coming up on Modern Family?
A man-date for Phil Dunphy, yo! And not just any man-date. "I go on an accidental date with him," Ty Burrell spilled of what guest star Matthew Broderick will be up to on the show when we caught up with him at the premiere of his new movie Butter. "He thinks it's a date and I don't know it's a date. I'm a huge admirer of him as an actor, so I think I'm the most excited I've been." So will there be some kissing? Burrell teases, "I'm not gonna kiss and tell!"
Tyler: I'll take anything you've got on Supernatural!
Prepare for Supernatural…as a cartoon show. Kind of. "What happens when you find yourself living in a cartoon universe? That's a lot of fun," showrunner Jeremy Carver says of an upcoming episode, but notes that it will not be animated. "It deals with cartoon physiques in the real world," he explains. Another fun one to look forward to is "an episode that deals pretty heavily and fun-ly with the LARPing universe, different from the way we've dealt with it in the past."
Ethan: Community scoop, please!
Manic pixie dream girls are officially taking over, y'all! Their next stop? NBC's quirky comedy, where one named Kat, who is pretty cute and energetic, pops up to flirt with Abed. So should Troy be jealous? He's too busy with Britta! "You will see how [Troy and Britta] affects Abed and Troy," Danny Pudi tells us. "One thing we discovered and explored last year was that rift between Abed and Troy. Although they are together as one unit, Trobed, they do have also pursue individual lives…their rift last year explored what would they be like alone. Troy with Britta will explore that a little more, how that relationship is going to affect Kickpuncher movie nights."
Shannon: Excited to see Rita Wilson on Girls! Any info you can divulge?
We'll just let Rita take this one, OK? "I'm Marnie's mom. I can just tell you that she is currently separated from her husband," she tells us. "I think my character is a little more outrageous than a typical mom." Does this mean she'll butt heads with the prim and proper Marnie? "No, it's a very real, adult relationship between a mother and a daughter, but it's got some complexity to it."