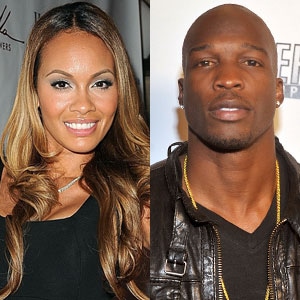 Gustavo Caballero/WireImage; Charley Gallay/WireImage.com
We wonder if Chad Johnson is regretting that tattoo he got of his estranged wife's face.
On the same day the former Miami Dolphins wide receiver and VH1 star pleaded not guilty to battering Evelyn Lozada, we now learn that Johnson has finally given into reality and has now joined Lozada in seeking a divorce.
The news comes almost a month to the day his missus filed her petition calling their 40-day marriage kaput.
Sources confirm to E! News that Johnson, otherwise known as Chad Ochocinco, did file his response to Lozada in a Florida court within the last 48 hours, and a date has been scheduled for Sept. 19 to finalize the divorce.
A source tells E! News that this will not be a messy divorce, as there was a 40-page prenuptial agreement in place between the two. The source adds that "Evelyn is not asking for anything that is not already in the prenup," and that "there is no fighting or a dispute between them."
TMZ reported that Lozada is requesting that the 34-year-old NFL star pay her legal fees. The source confirms this, adding that Johnson is asking the court to uphold the prenup, in which they had both agreed that each would pay for his or her own legal fees in the event of a divorce.
Johnson's decision to proceed with the divorce is a major about-face for the embattled footballer, considering just last week he reportedly refused to sign any divorce docs in the desperate hope that he and Evelyn could reconcile.
And to prove his love for Lozada, he even went out and inked a tattoo of her face on his right leg. No word if he's going to keep it now that he's given up the good fight.
Johnson got into trouble on Aug. 11 when he was arrested on a misdemeanor battery charge. According to authorities, an altercation ensued when his Basketball Wives bride questioned him about a box of condoms she had found and he allegedly headbutted her.
The pair tied the knot on July 4 in a lavish ceremony that was chronicled on their short-lived reality series, Ev and Ocho, which VH1 promptly axed following his domestic violence bust.
Neither Lozada nor Johnson's reps could be reached for comment, but he did allude to the couple's woes (and take some responsibility for his marriage's demise) on Twitter early this morning before his court appearance.
"Chad f—ked up not Eve," he tweeted in a response to a follower who insisted Lozada had "destroyed his name and life."