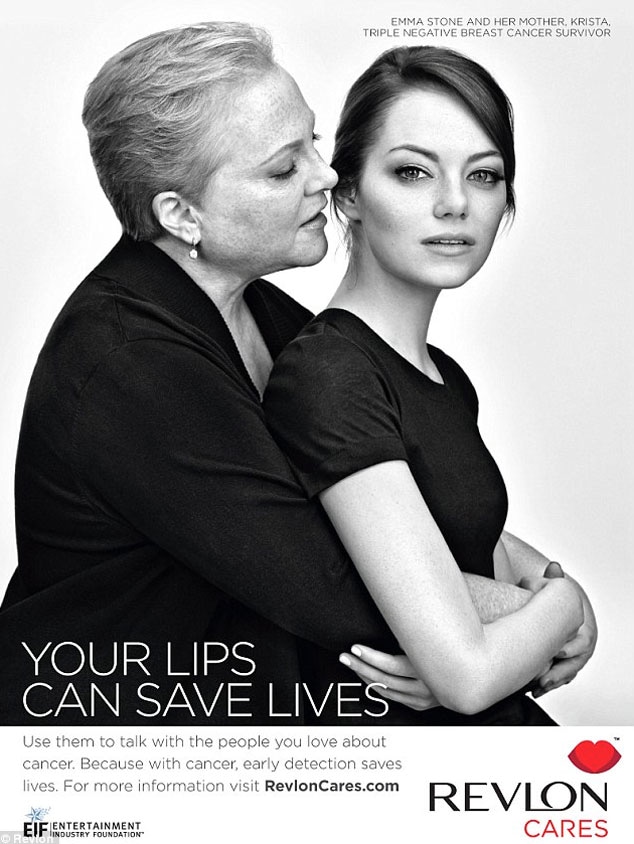 Revlon/Steven Klein
With great power comes great responsibility. That's apparently as true of Spider-Man stars as it is of Spider-Man himself.
Luckily, Emma Stone is using her considerable influence for good, appearing in a Revlon campaign promoting breast cancer awareness with her mother, herself a survivor.
The 23-year-old actress appears alongside her mama Krista in the touching black-and-white ad, part of Revlon Cares' "Your Lips Can Save Lives" campaign.
The ad featuring the Stones (Emma is, of course, a Revlon spokesperson), will appear in print in the October and November issues of various women's magazines, and is part of a series of PSAs emphasizing the importance of early detection.
Stone's mother was diagnosed in 2008.
"She still has surgeries to go, and that time period is always kind of present still," she told USA Today. "So doing that [photo shoot] was just—she's here. We're here together as mother and daughter. It was hugely emotional, and I think everyone on set knew that and was hugely supportive of that."
And Emma knows from support. While they're not visible in the ad, both Emma and Krista got matching blackbird feet tattoos on the inside of their wrists (in deference to the Beatles song) to commemorate that her mother had beat cancer.