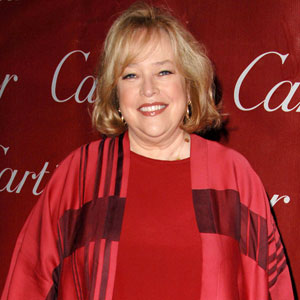 Steve Granitz/Getty Images
Kathy Bates is a survivor. Twice over.
While the 64-year-old Oscar winner only recently opened up about her hard-fought battle with ovarian cancer (a battle she won nine years ago), Bates has now revealed that she has subsequently undergone a double mastectomy after being diagnosed with breast cancer over the summer.
"It's no secret that I am an ovarian cancer survivor, nine years and counting," Bates said in a statement to E! News. "But few know that several weeks ago I was diagnosed with breast cancer. After much consideration I underwent a double mastectomy.
"Luckily," she continued, "I don't have to undergo radiation or chemo. My Family call me Kat because I always land on my feet and thankfully this is no exception. My doctors have assured me I'm going to be around for a long time.
"I'm looking forward to getting back to work doing what I love to do."
Obviously not one to be deterred from what she sets her mind to, the Emmy nominee—for both Outstanding Actress in a Drama for Harry's Law and Outstanding Guest Actress in a Comedy for Two and a Half Men—is fully expecting to walk the red carpet at the Emmy Awards Sept. 23.
And we look forward to seeing her do it.