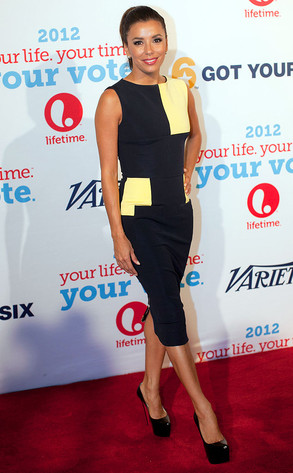 Jason Arthurs/Getty Images
Eva Longoria is ready. Tonight she will take to the podium at the Democratic National Convention to deliver a speech in support of Barack Obama, but last night she was introducing a whole different act: Flo Rida.
Eva was the special guest at the Your Life Your Time Your Vote Event hosted by Got Your 6 and Lifetime Television and hit the stage to rile the crowd up for a performance by the "Whistle" rapper. But, naturally, she had today's impending speech on her mind.
"I'm excited! It's probably the most important speech I've ever done in my life, to this point," Eva, who wore a black and yellow dress, told us. "It's an important audience. It's going to be overwhelming, but I'm so honored that they asked me to do it. It's a privilege to be able to speak to the American public in this forum."