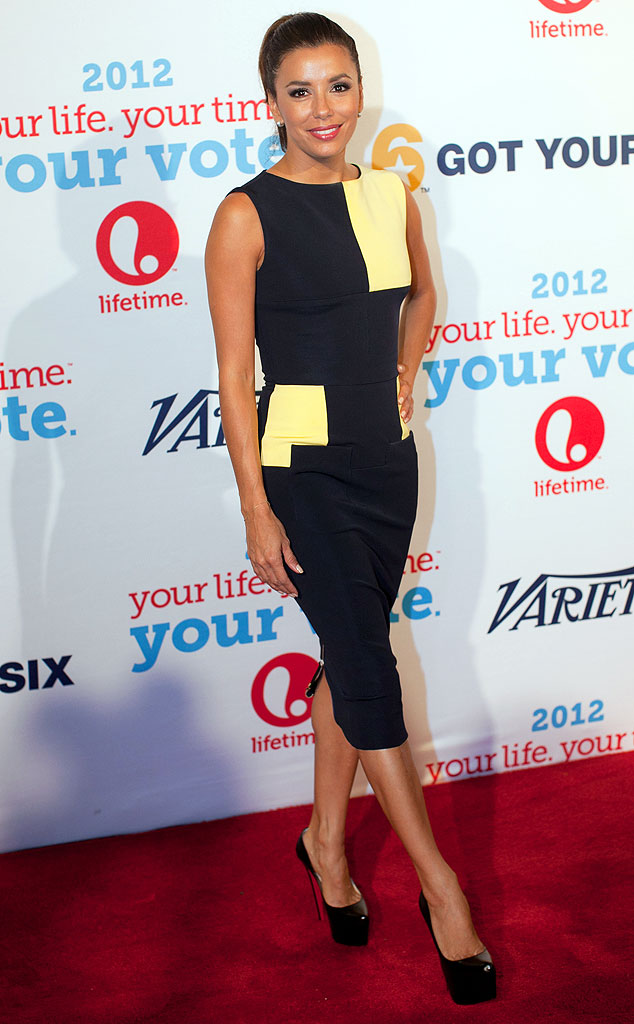 Jason Arthurs/Getty Images
Eva Longoria is ready. Tonight she will take to the podium at the Democratic National Convention to deliver a speech in support of Barack Obama, but last night she was introducing a whole different act: Flo Rida. 
Eva was the special guest at the Your Life Your Time Your Vote Event hosted by Got Your 6 and Lifetime Television and hit the stage to rile the crowd up for a performance by the "Whistle" rapper. But, naturally, she had today's impending speech on her mind.
"I'm excited! It's probably the most important speech I've ever done in my life, to this point," Eva, who wore a black and yellow dress, told us. "It's an important audience. It's going to be overwhelming, but I'm so honored that they asked me to do it. It's a privilege to be able to speak to the American public in this forum."
But nerves or not, she says she's ready: "There's no winging it!" she continued. "I think the preparation is really key. I'm definitely prepared and ready. I'm more worried about tripping or something, not about the speech." 
Eva has some tough acts to follow, though, after Michelle Obama's wow-worthy speech Tuesday night and President Bill Clinton's Wednesday night barnburner.  
"Michelle is a great orator; she's extremely articulate," Eva gushed over the FLOTUS. "I just loved how she humanized her husband and the kind of man he is in moving the country forward, not because it's political but because it's personal. Which I love."
That said, the former Desperate Housewives actress (who says that Obama told her he did love her soapy ABC hit, though she claims "I'm sure he doesn't have a lot of time to watch it") isn't trying to model her speech off of anyone else's.
"Everybody has such a personal narrative in their speech, their stories, their American dream, the American story," Eva explained to us. "So I'm going to do a little of that tomorrow night, talk about my personal story, my American dream, specifically with education and my journey with education and my journey as an entrepreneur."
Eva is also ready for fans who might critique the actress for taking a strong political stance, saying, "There's things more important than acting and movie turnout, and that's being civically engaged and trying to make this country a better place for everybody. And I care deeply about this country, a lot more than any role I could do."
Related:
Eva Longoria Teases DNC Speech