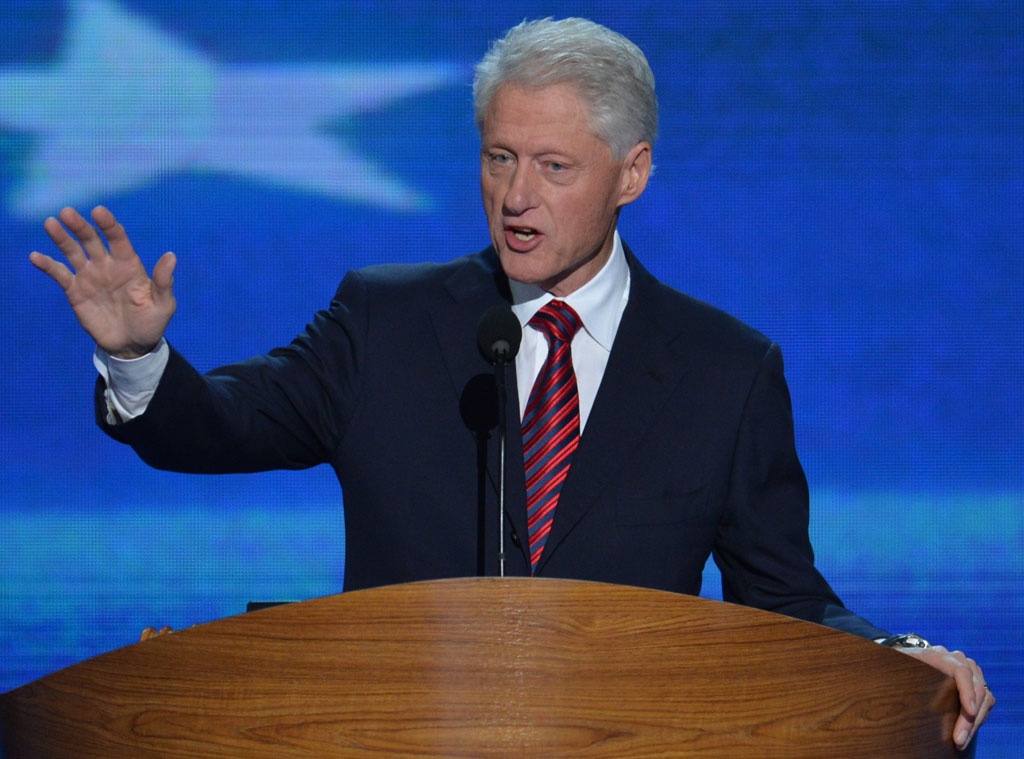 BRENDAN SMIALOWSKI, STAN HONDA/AFP/Getty Images
No celebrity was bigger than Bill Clinton tonight at the Democratic National Convention.
"Bill, lookin good. #veganfox," tweeted Olivia Wilde, just one of the dozens of enthusiastic responses coming from the Hollywood Twitterverse in response to the former commander in chief's speech in Charlotte, N.C.
And she wasn't kidding. Amid periodic chants of "four more years" (not all of 'em may have been about President Barack Obama), Clinton didn't even miss a beat when his teleprompter conked out briefly—though the reporters following along with a preprinted transcript were surely confused!
Obama, in his first appearance at the DNC, greeted Clinton at the end of his speech as Tom Petty's "I Won't Back Down" filled the arena. We're guessing there won't be any cease and desist letters coming from Petty's camp tomorrow.
Sure, there were some jokes about Clinton hitting on the first lady—"I want a president who had the good sense to marry Michelle Obama!" he said early on—and about how long he went on (48 minutes!), but the overall response from his fellow famous Democrats was overwhelmingly positive.
"B Clints speaks the truth! "NO president could have fully repaired all the damage that he found in just 4 years," Wilde added.
"That's it Bill, nothin wrong with workin blue!" tweeted a less-cynical-than-usual Bill Maher.
"Bill Clinton breaking it down," Whoopi Goldberg tweeted. "Speaking truth about the need to get our butts in order. What works In the real world is cooperation. Speak!!" (And, when he was finished, she added: "Bill Clinton has given one of the best speeches of his life. Great great speech. He just made the single BEST argument for Barack Obama.")
"Still funny as hell #billclinton #dnc2012...this is an old school barn burner!" noted Sandra Bernhard, while fellow comic Patton Oswalt wrote, "I would buy a Criterion DVD just of Bill Clinton explaining LAST YEAR AT MARIENBAD. #DNC."
"Bill Clinton is up there teaching," tweeted Chris Rock. "Listen up young ppl. 66 years old with no wrinkles. You better listen to EVERYTHING this man has to say!!"
"Young Americans! Listen to to Bill Clinton's speech over and over!!! @BarackObama's student loan initiative is the key to their future!" tweeted a similarly minded Eric Balfour. "Bill Clinton's speech is beyond amazing!!! It is the most concise, clear, and simple explanation for why @BarackObama should be re-elected!"
"DAMN BILL. CLINTON IS BAAAAAACKKKKKKK!!!!!" tweeted an equally enthusiastic Chan Marshall, aka Cat Power.
Bob Balaban wrote: "I am cheering everything Bill Clinton is saying and I don't think I've ever heard a better speech."
Alyssa Milano happily chimed in, "Bill Clinton, I love you so much. Like crazy amounts of love."
"'Republicans...it takes some balls to attack accuse a guy for doing what you did' president bill clinton...wow...pres. clinton is the best," tweeted big-time fan will.i.am.
"Bill Clinton's speech is fantastic. Passion, common sense, and straight talk! #DNC2012," added Alicia Silverstone.
"Bill Clinton, the SHOCK heard around the world," tweeted Oscar winner Octavia Spencer.
"I want a Bill Clinton backpack, a Bill Clinton lunchbox, Bill Clinton toothpaste, Bill Clinton curtains, and a Bill Clinton beach towel," offered Paula Poundstone.
"Some of y'all might want to #unfollow right now because I LOVED Bill Clinton's speech!" Valerie Bertinelli warned her more conservative followers.