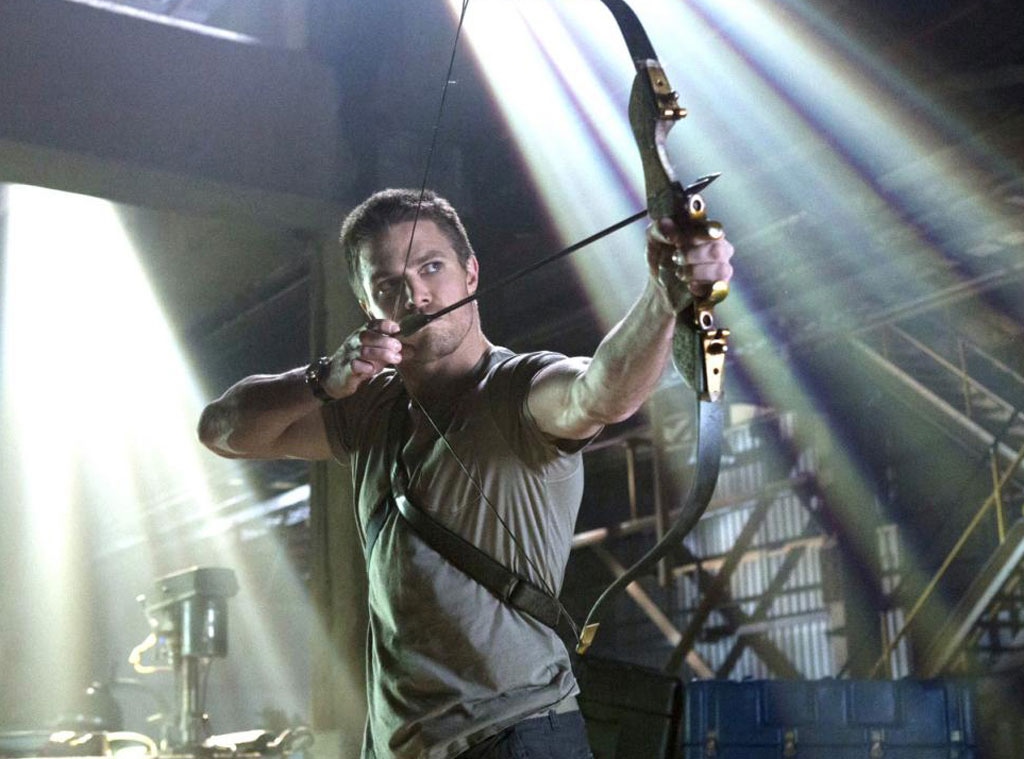 Jack Rowand/The CW.
We've come to one conclusion: we're in love with Arrow.
While initially Smallville fans were slightly miffed when producers decided not to cast that show's Justin Hartley in this fresh take on the character Green Arrow, we're pretty sure everyone, and we mean everyone, is now sold on their choice. If charm was a person, it'd be Stephen Amell, who we're picking now as the breakout star of the fall TV season.
Why? He's that good in the role. (And those abs…and arms…and face…and that intense stare? Well, he doesn't offend our eyes, that's all we're saying.)
So now that we've got that out of the way, let's check out the other appealing aspects of the show.

Arrow (CW)

Premieres: Wednesday, Oct. 11, 8 p.m.

Time-Slot Competition: The Middle/Suburgatory (ABC), Survivor (CBS), The X Factor (Fox), Guys With Kids/Animal Practice (NBC)

Cast: Stephen Amell, Katie Cassidy, Willa Holland, Susanna Thompson, Paul Blackthorne
, Colin Donnell and David Ramsey
Status: We've seen the pilot episode
In case you have never read the Green Arrow comics or watched the CW's Smallville, here's a quick 'cap of the series' take on the character: After spending five years on an island after a shipwreck, Oliver Queen returns to Starling City a changed man. Though he presents his former playboy image to the public, privately, he is the Green Arrow, a vigilante on a mission of revenge. Think Batman Begins meets Revenge, which is basically a recipe for awesome, no?
One of the (many) reasons we love Arrow? How completely and utterly un-Smallville it is. In a wise decision to forgo any resemblance to the long-running Smallville, Arrow takes a darker, Christopher Nolan-esque route, turning Queen into an isolated and damaged Bruce Wayne-type figure, who happens to have the skills of The Avengers' Hawkeye ('Sup, Jeremy Renner?)
Still, there's more to a show than just its leading man, and Amell's got a stellar line-up backing him up. One of our favorite small screen actresses Katie Cassidy, she who owned the failed Melrose Place reboot, finally gets a vehicle worthy of her talents. She takes on the role of Laurel, Oliver's ex-girlfriend, who's sassy and classy, our favorite combination. The O.C.'s Willa Holland makes a welcome return to TV as Oliver's little sis, Thea, who has some secrets under her (metaphorical) hood as well.
Much like the CW's highly-underrated Nikita, Arrow is a smart, action-packed drama that appeals to viewers of all ages, and can rope in the fanboys. Plus, it fills the superhero-sized hole in the network at the most opportunistic time (The Dark Knight Rises, The Amazing Spider-Man and The Avengers all dominated the box office this summer). The cherry on top of our Arrow-loving sundae? The involvement of one of our favorite showrunners, Greg Berlanti (Everwood, Dawson's Creek, Brothers & Sisters).
Our Review in GIF Form:
Verdict: Watch. Arrow has something for the gals and the guys.