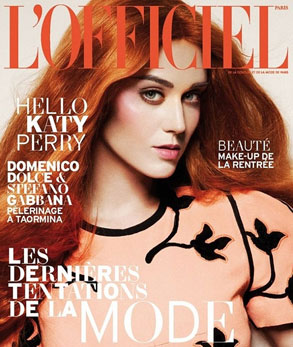 L'OFFICIEL
She's been brunette, blond, blue, pink, purple and full-on rainbow. But now Katy Perry's locks are taking on a new look: ginger!
Yes, that is the "Part of Me" songstress on the cover of France's L'Officiel magazine. Don't fret if you had to do a double take—with her orange locks and goth-chic styling, Ms. Perry is a dead ringer for Florence Welch of Florence + the Machine.
While John Mayer trimmed his formerly homeless-esque hair following his split from Ms. Perry (if that's what you'd call a breakup after five seconds, that is), Katy is continuing her voyage on the candy-colored hair express.
So do you love it or should Katy leave the orange for someone more suited, like, say, the Great Pumpkin?