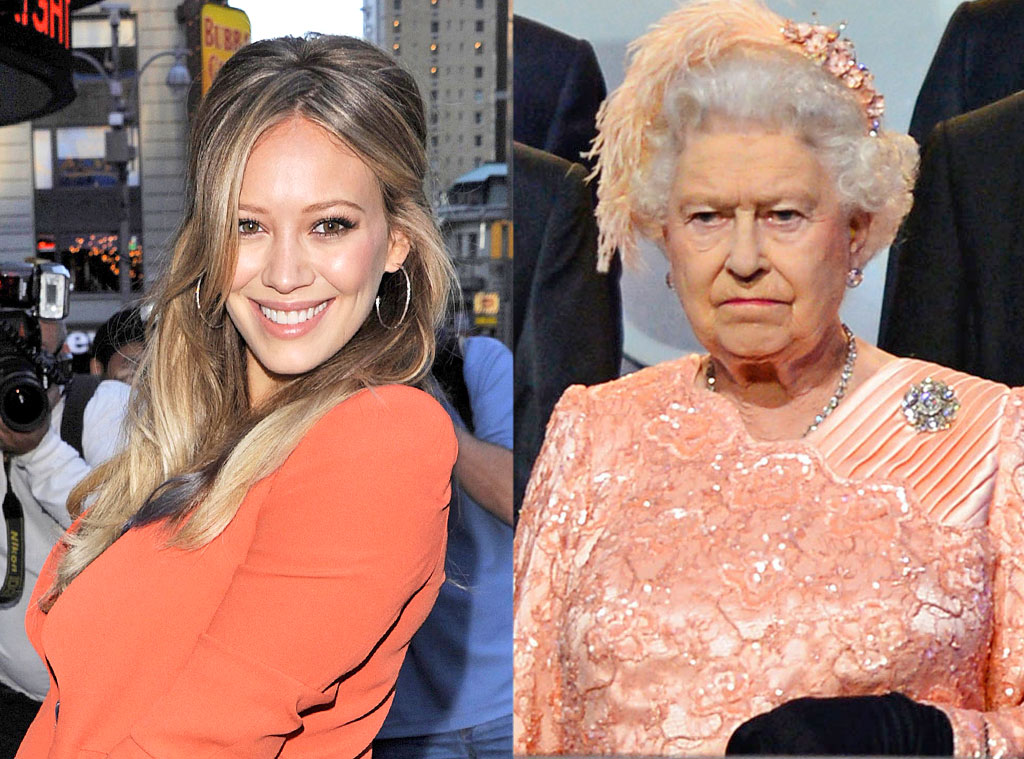 Bill Davila/startraksphoto.com; LEON NEAL/AFP/Getty Images
It's really been a banner week for the royal family. Not only did they gain themselves a worldwide scandal in the form of a naked Prince Harry (cheers for that, by the way), but they also gained a famous relative.
Believe it or not, Disney princess Hilary Duff is a real...well, OK, she's not a real-life princess. Not even close. But according to the results of a genealogical study released today, she tops the list of famous Americans who can claim ancestry (granted, rather distant ancestry, but still) to Queen Elizabeth II and, it follows, the rest of the royal family.
So just how closely related is she? Well, she probably shouldn't expect a Christmas card, but according to the heritage study released by findmypast.com today, she is 18th cousins with the queen.
In other words, when it comes to distantly-related, tenuously connected celebs to the royal family, she has the most bragging rights.
"Both trace their ancestry back to Edward III, a king with many children who died in 1377," genealogist Josh Taylor, who helped document the connections, said. "The rest on the list share descent with the queen from either English or French kings."
Speaking of the rest of that list, Duff isn't the only celeb who can boast a connection.
Brooke Shields, Maggie Gyllenhaal and therefore, naturally, Jake Gyllenhaal, Michael Douglas, Brad Pitt, Angelina Jolie, Alec Baldwin, Ellen DeGeneres (who was already more than aware of that fact, thankyouverymuch) and even Beyoncé made the relative cut.
Long live the bloodline. And long may it entertain.