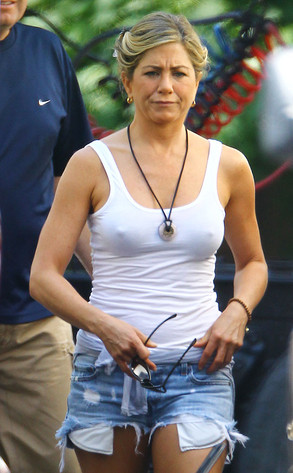 Chris Watts/INFphoto.com
Jennifer Aniston is one classy lady.
So the fact that she can convincingly play the role of a prostitute is a real testament to her acting ability. The 43-year-old was snapped Thursday on the set of We're the Millers in Wilmington, N.C., wearing tiny, ripped jean shorts, and a very revealing, borderline see-through white tank top.
The flick follows a veteran pot dealer (Jason Sudeikis) who creates a fake family as part of his plan to smuggle a huge shipment of marijuana into the U.S. from Mexico. In this faux family, Aniston poses as the dealer's wife.