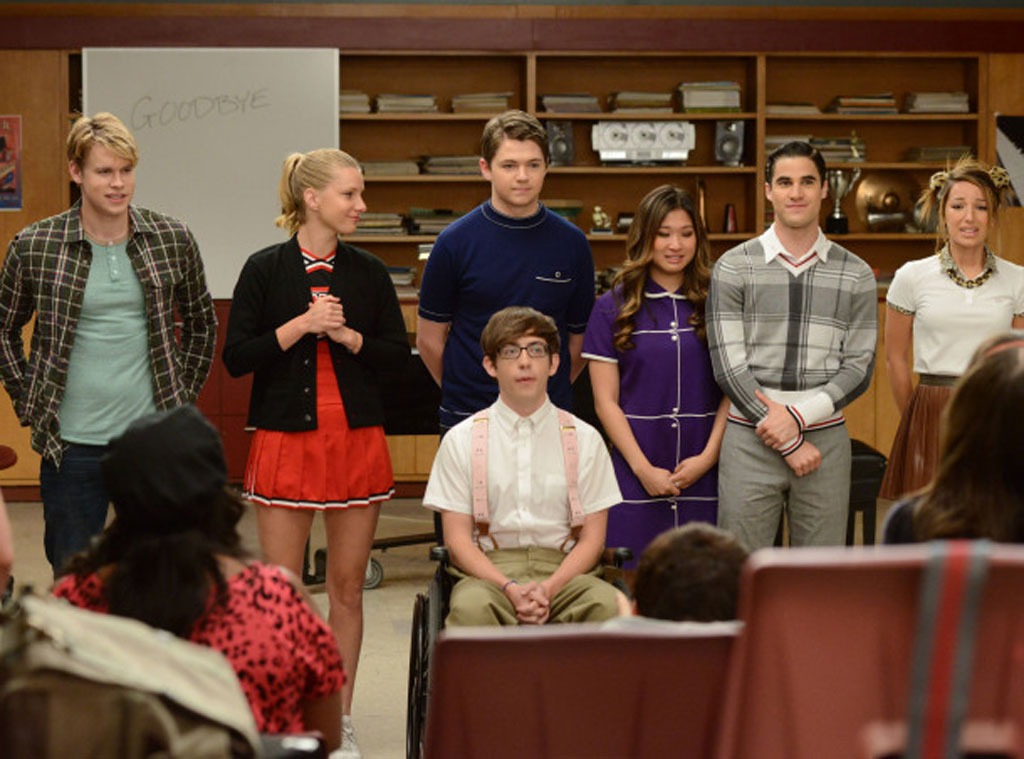 Adam Rose/FOX
Who knew when Ryan Murphy joined Twitter he'd give us so much stuff to talk about besides first-look photos?
The Glee creator had a Q&A with fans earlier today, and we got scoop on Kurt's New York plan, Sam's love life and an episode that might make fans nervous or excited, depending on your interpretation. Here are the five things we know about Glee's fourth season, courtesy of Ryan Murphy:
1. A Couple in Danger? Murphy tweeted that the writers are currently working on an episode that he's really excited about, and it's called "The Break-Up." Of course, that title doesn't necessarily have to apply to a couple. It could be a friendship, or even—dare we say it, the New Directions? Or maybe someone breaks a leg? Ahhh, showbiz jokes. We're full of them.
2. The Devil Wears Capes: Kurt (Chris Colfer) might be working at the be-all, end-all fashion magazine: Vogue. When a fan asked if Kurt would have an uplifting storyline after being rejected from NYADA, Murphy said that Kurt would "triumph" at Vogue.com. Let's hope this storyline is real, because we'd love to see Kurt face off with an Anna Wintour-type.
3. Turkey Time: A Wemma wedding won't be the only time the whole gang is back together in Lima. Murphy revealed that they are planning a "great two-part Thanksgiving episode." And wouldn't you know it, Sectionals will be happening right around that time of year.
4. Sam's New Leading Lady: Murphy confirmed that we won't be seeing more of Sam (Chord Overstreet) and Mercedes (Amber Riley), at least in the first half of the season, but he won't be single for long. Sam will have a new girlfriend this year, but the big question is will it be a newbie or someone we already know? Sam and Quinn (Dianna Agron) fans are waiting with bated breath.
5. Starting the Year Off Right: The first big group number of the year is…drumroll please…"Chasing Pavement" by the wonderful Adele! As you have seen in the past, Glee can cover the crap out of her. And that's quite a sad song, so it makes you wonder why they'll be singing it in the first place. Either way, we can't wait to hear it!
To get more tidbits from the Glee creator, including his dream actress to play Blaine's mother, check out his Twitter feed.