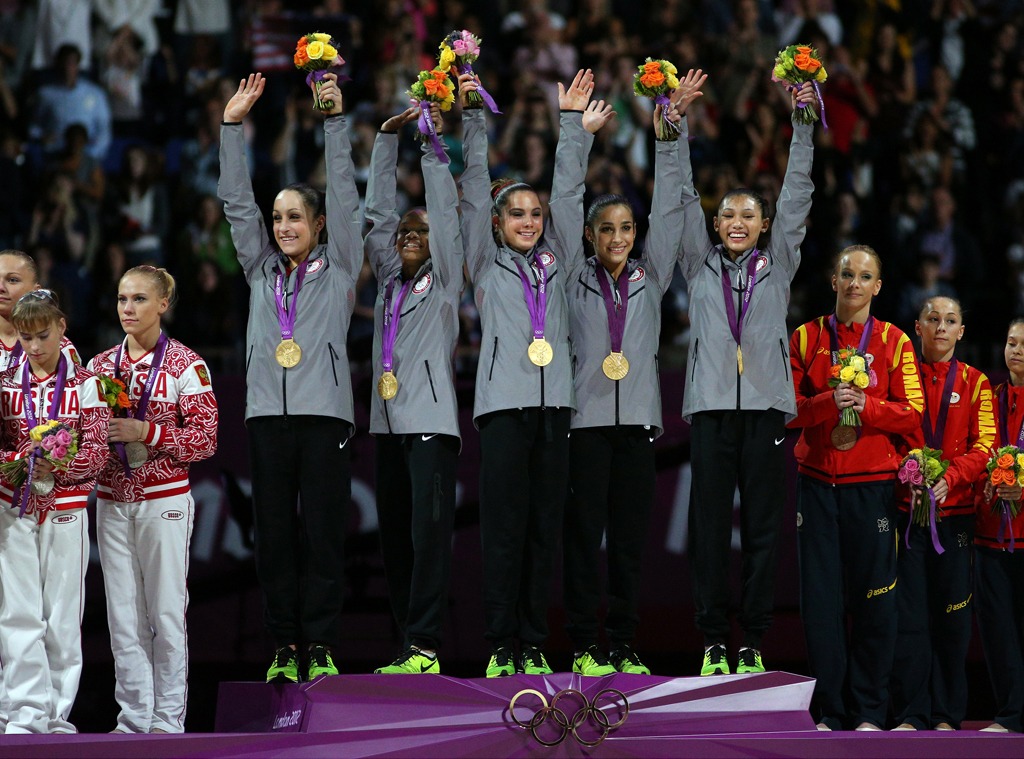 Cameron Spencer/Getty Images
Meet the new Golden Girls: Jordyn Wieber, Aly Raisman, Gabby Douglas Kyla Ross and McKayla Maroney.
Today, the flipping amazing U.S. women's gymnastics team won the gold medal at the London Olympics, with the so-called Fab Five beating out Russia and Romania for the top honor and securing the first team gold for the U.S. since 1996.
So who are the girls representing the red, white and blue across the pond? Let's get to know these extraordinary ladies.
BEN STANSALL/AFP/Getty Images
Jordyn Wieber: The 17-year-old gymnast was heartbroken Sunday when she didn't score high enough to compete in the Olympic all-around final. (In an upset, Aly Raisman and Gabby Douglas advanced and, due to a quirk in the rules that only allows two per team to move on, Wieber missed the cut despite outscoring many finalists from other countries.) But the reigning world all-around gymnastics champ did complete in team finals Tuesday, helping Team USA to bring home the gold. According to her team profile page, Wieber enjoys "hanging out with friends, shopping, spending time with my family, scrapbooking and crafts." She also revealed to E! News that she's a major Belieber and a fan of Keeping Up With the Kardashians.
Ronald Martinez/Getty Images
Gabby Douglas: This smiling 16-year-old, nicknamed the Flying Squirrel for her prowess on the uneven bars, is one of two American's representing the women in this week's individual all-around final on Thursday. According to her team profile, she's a huge Twi-hard and her favorite show is Vampire Diaries.
BEN STANSALL/AFP/Getty Images
Aly Raisman: This 18-year-old, who also beat out longtime BFF Wieber for a spot in the all-around finals, told International Gymnast Magazine she considers veteran Alicia Sacramone "a really good role model." Raisman's parents stole the spotlight during Sunday's team qualifiers, swaying from side to side and willing her to "stick it!"  
Ronald Martinez/Getty Images
Kyla Ross: This 15-year-old isn't just a pro on the uneven bars: She's also a fan of E! News' first family. "Can't believe we got to meet Bruce Jenner!" Ross tweeted Thursday, linking to a picture of the women's gymnastics team smiling alongside the former decathlete. "I love the Kardashians" According to Ross' team profile, she's also a major Hunger Games fan and loves ABC's Modern Family.
Ronald Martinez/Getty Images
McKayla Maroney: This 16-year-old World Champion vaulter, who soared higher than any other gymanst during the prelims, has a celebrity doppelgänger: Posh Spice! Maroney tweeted, "I love when ppl say I look like Victoria Beckham! haha!" We totally see the resemblance. These two should collaborate—couture leotards, perhaps?