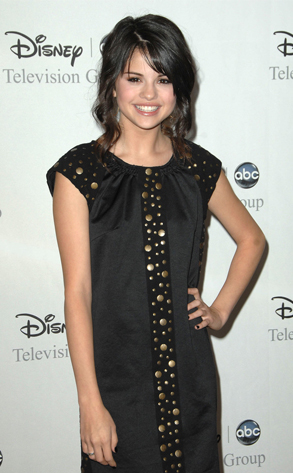 AP Photo/Jennifer Graylock
Talk about an awesome birthday present!
Selena Gomez, who turned 16 today, has signed her first record deal with Hollywood Records, a well-placed source exclusively tells me.
Music execs have been after the starlet for months now, ever since they got the scoop that Disney was crowning her as the next Miley Cyrus...
While Hollywood Records is part of the Disney Music Group, I'm told Gomez was courted by others because she doesn't have an exclusive deal.
In fact, just this past Saturday, she shot a music video for "Tell Me Something I Don't Know," a single from her upcoming Warner Premiere movie, Another Cinderella Story.
A source says that this was no low-rent production. It was shot in a house in Northridge, Calif., and choreography was by Hi-Hat, the dance impresario who has worked with Missy Elliott, Kanye West, Eve, Gwen Stefani, Mary J. Blige and on the movies Bring It On and Step Up 2.
This was Gomez's second video in as many weeks. She also shot one for "Fly to Your Heart," a song from Disney's upcoming animated Tinker Bell: North of Neverland.
Meanwhile, Gomez got her Sweet 16 celebration on this Sunday with a party at Hollywood hot spot Kress.
Guests included her Wizards of Waverly Place costar David Henrie; best friend and Camp Rock star Demi Lovato; Kim and Khloé Kardashian; and Cheetah Girl Sabrina Bryan.
A rep for Hollywood Records did not comment on the new deal.