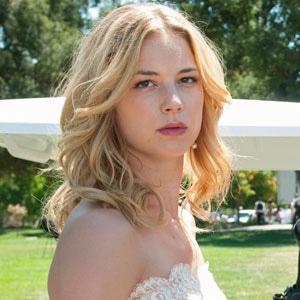 ABC/COLLEEN HAYES
Mommy dearest is coming to the Hamptons!
As soon as the Revenge finale aired, there was one question on every one's find: which actress would take on the role of Emily's (Emily VanCamp) not-so-deceased mother? Well, we've got good news for you: you can finally stop holding your breath in anticipation because the wait is over as the role has finally been cast.
So which actress scored the highly coveted role...and an enemy in Victoria Grayson (Madeleine Stowe)?
Meet your Mrs. Thorne, Revenge fans: Jennifer Jason Leigh!
Stephen Lovekin/Getty Images; Vivian Zink/ABC
The actress, who most recently appeared on Weeds and is most well-known for her role in the '80s classic Fast Times at Ridgemont High, will make her debut as Emily's mother early on in the ABC hit's second season, ABC confirms to us. Emily had believed her mother to be dead for years, but had a bombshell dropped on her in the finale when she learned that she was alive.
We recently chatted with star Madeleine Stowe, who teased Victoria's dynamic with Emily's mother and her former love, David Clark's (James Tupper) wife. "My understanding is we're antagonistic toward each other," she told us.
Of the role, Stowe said, "It's got to be someone who's got a little bit of a screw loose and can do that well." So yes, you can except Emily's mother to be pretty darn crazy, just the way we like our Hamptonites on the show!
Revenge returns to ABC this fall in a new timeslot, Sundays at 9 p.m.
What do you think of this casting choice, Revenge fans? Are you excited to see Jennifer Jason Leigh on the show? Sound off in the comments!