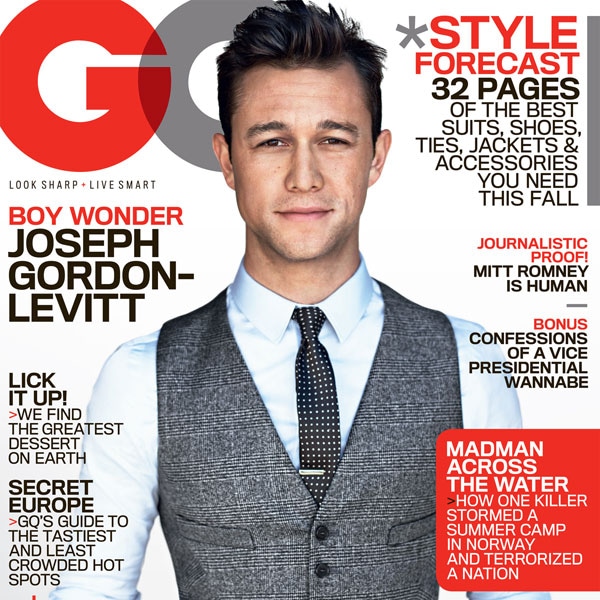 GQ Magazine
Contrary to what Joseph Gordon-Levitt thinks, GQ doesn't see anything wrong with what it wrote about the actor or his family.
The Dark Knight Rises star—the magazine's August cover boy—objected yesterday to writer Amy Wallace reporting that his brother's death in 2010 was the result of  "an alleged drug overdose," calling her choice of words "factually incorrect."
Au contraire, says GQ.
Because Wallace "and her editors understood the pain Dan's passing caused the Gordon-Levitt family, the story sought to be respectful—and brief—in the way it described his death, which GQ felt was a relevant fact in Joseph Gordon-Levitt's biography," the publication responded in a statement today.
"The story stated that Dan, 36, who was close to his brother and often collaborated with him, 'died of an alleged drug overdose in 2010. "It was an accident" is all Joe will say about that,'" GQ continued.
 "The magazine stands by its reporting, the facts of which are fully supported—and have been confirmed in detail—by the Los Angeles County coroner's office."
The L.A. County Department of Coroner tells E! News that Daniel Gordon-Levitt, per his death certificate, died accidentally of "ketamine intoxication." (Ketamine's medicinal use is as an intravenous or intramuscular anesthetic, but taken recreationally it's said to have a similar effect to PCP. It can cause elevated blood pressure and hallucinations.)
Following Dan's death on Oct. 4, 2010, Assistant Chief Coroner Ed Winter told E! News that the case was first reported to his office as "a possible overdose." Two friends were with Dan when paramedics arrived at the scene, one of whom also needed medical attention.
—Additional reporting by Holly Passalaqua