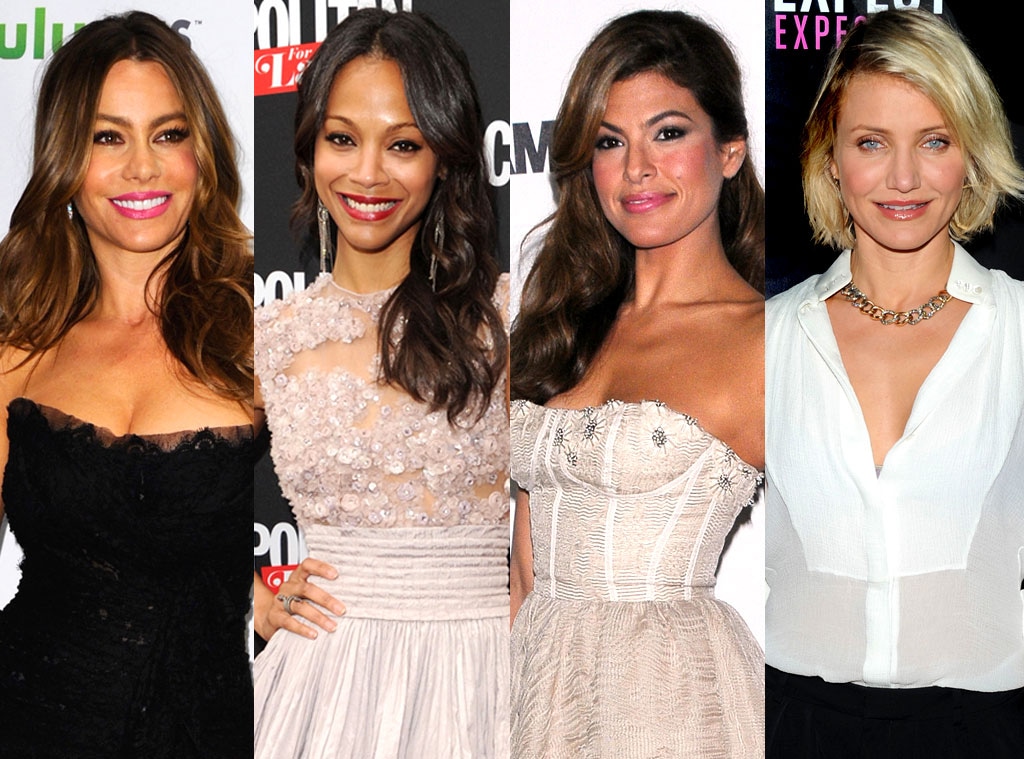 Getty Images
Is it hot in here, or is just the nominees for the 2012 ALMA Awards?
The nominations are out for the annual Latino-honoring awards show, and the nominees read like a who's who of Hollywood, with Cameron Diaz, Eva Mendes, Christina Aguilera, Jennifer Lopez, Charlie Sheen, Demi Lovato and Zoë Saldana leading the celebrated pack.
Spanning music, movies and TV, the ceremony—once again set to be hosted by Eva Longoria—honors the best and brightest of the caliente set.
So, who made the cut this time around?
On the movie side of things, Act of Valor, For Greater Glory, Girl in Progress, Puss in Boots and The Way are vying for top honors, while relative newcomer Diego Boneta is thrown in at the deep end of the Favorite Movie Actor category, competing against veteran talents Benicio Del Toro, Andy Garcia, Rodrigo Santoro and Martin Sheen.
As it happens, the nominations proved to be something of a family affair for the Sheen clan, as Emilio Estevez scored a Supporting Actor in a Movie nod for The Way, and brother Charlie earned himself a Favorite TV Actor, Comedy, nom for Anger Management.
Representing for the ladies in the drama category are Salma Hayek, Evas Longoria and Mendes, Zoë Saldana and Roselyn Sanchez. Their musical/comedy counterparts are equally as formidable, with Bérénice Bejo, Penélope Cruz, Cameron Diaz, Jennifer Lopez and Aubrey Plaza all nominated.
As it happens, Plaza scored a twofer on the ballot, up not only for Favorite Movie Actress—Comedy/Musical for Safety Not Guaranteed, but nominated for Favorite TV Actress—Comedy for Parks and Recreation. Sofia Vergara also scored the coveted double, for her work on Modern Family and The Three Stooges, while J.Lo proved herself a veritable triple-threat, earning kudos for her work on the big screen, American Idol and in music.
Also up on the TV side: Glee's Naya Rivera, Victorious' Victoria Justice, Dallas' Jordana Brewster, The Office's Oscar Nuñez and Grey's Anatomy's Sara Ramirez.
As for the nominated musicians, Favorite Male Music Artist will be decided between Bruno Mars, Pitbull, Ricky Martin, Romeo Santos and Santana, while the Favorite Female Music Artist sees Lopez pitted against Gloria Estefan, Demi Lovato, Naya Rivera and Esperanza Spalding.
Fans can vote online for their favorites in all the categories through Sept. 7. The winners will be unveiled in an hourlong ceremony set to air Sept. 21 on NBC. (E! and NBC are both part of the NBCUniversal family.)
Here's the complete list of nominations for the 2012 NCLR ALMA Awards:
Favorite Movie
Act of Valor
For Greater Glory
Girl in Progress
Puss in Boots
The Way
Favorite Movie Actor
Diego Boneta, Rock of Ages
Benicio Del Toro, Savages
Andy Garcia, For Greater Glory
Rodrigo Santoro, What to Expect When You're Expecting
Martin Sheen, The Way
Favorite Movie Actress—Drama/Adventure
Salma Hayek, Savages
Eva Longoria, For Greater Glory
Eva Mendes, Girl in Progress
Roselyn Sanchez, Act of Valor
Zoë Saldana, Colombiana
Favorite Movie Actress—Comedy/Musical
Bérénice Bejo, The Artist
Penélope Cruz, To Rome With Love
Cameron Diaz, What to Expect When You're Expecting
Jennifer Lopez, What to Expect When You're Expecting
Aubrey Plaza, Safety Not Guaranteed
Favorite Movie Actor—Supporting Role
Demián Bichir, Savages
Rubén Blades, For Greater Glory
Emilio Estevez, The Way
Oscar Isaac, For Greater Glory
Édgar Ramírez, Wrath of the Titans
Favorite Movie Actress—Supporting Role
Mia Maestro, Savages
Cierra Ramirez, Girl in Progress
Genesis Rodriguez, Man on the Ledge
Harmony Santana, Gun Hill Road
Sofía Vergara, The Three Stooges
Favorite TV Reality, Variety, or Comedy Personality or Act
Christina Aguilera, The Voice
Gabriel Iglesias, Gabriel Iglesias Presents Stand-Up Revolution
George Lopez, Take Me Out
Jennifer Lopez, American Idol
William Levy, Dancing with the Stars
Favorite TV Actor
Benjamin Bratt, Private Practice
Danny Pino, Law and Order: Special Victims Unit
Tyler Posey, Teen Wolf
James Roday, Psych
Charlie Sheen, Anger Management
Favorite TV Actress—Drama
Jordana Brewster, Dallas
Julie Gonzalo, Dallas
Cote de Pablo, NCIS
Lana Parrilla, Once Upon a Time
Madeleine Stowe, Revenge
Favorite TV Actress—Comedy
Victoria Justice, Victorious
Aubrey Plaza, Parks and Recreation
Naya Rivera, Glee
Belle Thorne, Shake It Up
Sofía Vergara, Modern Family
Favorite TV Actor—Supporting Role in a Drama
Guillermo Diaz, Scandal
Carlos Gomez, The Glades
Jon Huertas, Castle
Michael Trevino, The Vampire Diaries
David Zayas, Dexter
Favorite TV Actor—Supporting Role in a Comedy
Hector Elizondo, Last Man Standing
Ian Gomez, Cougar Town
Adam Irigoyen, Shake It Up
Oscar Nuñez, The Office
Rico Rodriguez, Modern Family
Favorite TV Actress—Supporting Role
Constance Marie, Switched at Birth
Sara Ramirez, Grey's Anatomy
Sarah Ramos, Parenthood
Gina Torres, Suits
Lauren Vélez, Dexter
Favorite Male Music Artist
Bruno Mars
Pitbull
Ricky Martin
Romeo Santos
Santana
Favorite Female Music Artist
Gloria Estefan
Jennifer Lopez
Demi Lovato
Naya Rivera
Esperanza Spalding