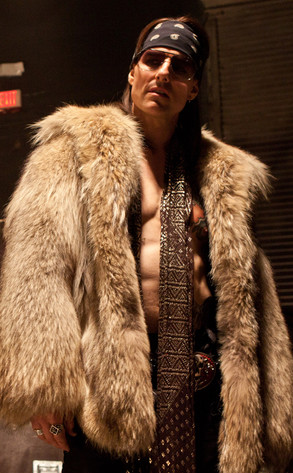 David James/Warner Bros. Pictures
When it comes to rock 'n' roll bands, the bigger the hair, the bigger the sound, right?
That's certainly the case for Tom Cruise who plays fictional rocker Stacee Jaxx in the film Rock of Ages, out today.
Big hair may have added the necessary boost of confidence for him to rock out like he's never done before in his latest role.
To gear up for his big rock debut, Tom and the rest of the cast took inspiration from real-life bands, including Poison, Def Leppard and Van Halen.
The all-star cast includes Malin Akerman, Alec Baldwin, Diego Boneta, Russell Brand, Bryan Cranston, Julianne Hough and Catherine Zeta-Jones.
Tom and the gang will make you want to sing, dance and, most importantly, rock 'n' roll all night (and party everyday).