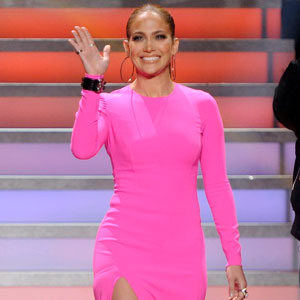 d'orazio
Jennifer Lopez is playing nice with American Idol.
The superstar has finally spoken out on my exclusive report earlier this week that she has decided not to return to A.I. for a third season…
"There is no truth to reports that say I am definitely leaving Idol," Lopez tweeted last night. "All I said was I haven't decided what I am doing next year. #mediaremix."
She followed up with another post, "When I know for sure what I'm doing I will let the #LOVE!RS know!"
Even so, my sources say she wants out.
So why the denial? One source insists it's not a negotiating ploy to squeeze more money out of Fox, but that "she wants to be respectful" of the show and producers because they have yet to sit down to discuss her exit.
"It's not about the money from Idol," the source said. "It's about her babies and focusing on being a film actress [What to Expect When You're Expecting is out today], her tour and building her empire."
The source said the 42-year-old mom of two would rather leave while "she's on top."
Lopez was crowned the most powerful celebrity earlier this week by Forbes magazine in part because of her $52 million in earnings in the last year, plus her success in social media with 6.6 million followers on Twitter and 12.6 million fans on Facebook.
Idol executive producer Nigel Lythgoe told The Hollywood Reporter last night that he'd like Lopez to stay, but believes the success of the show is "not about the judges, it's all about young talent."
No matter what, Lopez is very happy right now—this is the kind of attention she thrives on. "She loves it," a source said. "It's like air for her."
Reps for Idol and Lopez did not comment for this story.