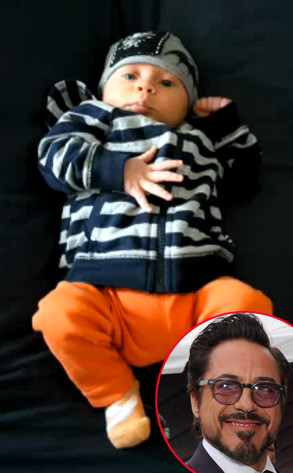 John Sciulli/WireImage
With The Avengers finally hitting theaters today, it's easy to forget that Robert Downey Jr. is more than just the man who flies around in an iron suit.
But during his Thursday appearance on The Tonight Show, the movie star happily reminded us that he's also a proud papa by sharing a couple of photos of his first child with wife Susan—3-month old son Exton. (Downey also has an 18-year-old son, Indio, from a previous marriage.)
"I would get in huge trouble," Downey initially told Jay Leno when the host asked the actor if he wanted to give the audience a glimpse of his little bundle of joy. "I want to, but I have to exercise just a little restraint. I mean, if you want me to I will."