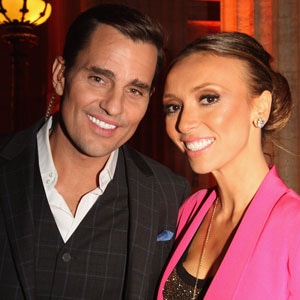 Tasos Katopodis/Getty Images
Get ready for Giuliana & Bill...& Baby! Yes, Giuliana Rancic has some wonderful news—she and husband Bill are expecting their first child.
"We are so thrilled that our prayers have been answered," the E! News anchor and Fashion Police cohost exclusively tells us. Adds Bill, "We are absolutely ecstatic to be sharing this with everyone who has been following our journey."
So when will Baby Rancic make the scene?
The tyke is due in late summer via a gestational surrogate—which means the baby will be the Rancics' genetic child.
Giuliana and Bill, whose struggles to conceive a baby have been well documented, and includes failed IVF treatments and a miscarriage, will appear on Monday's Today show to elaborate on the details behind the pregnancy and discuss how their life is about to take a happy turn.
Watch:
Giuliana and Bill Share Baby News
"We received an incredible amount of love and prayers from viewers around the world," says the 37-year-old Giuliana, "and we want to take this opportunity to thank each and every one of them for their love."
Today's announcement follows several trying months that included Giuliana being diagnosed with breast cancer and undergoing a successful double mastectomy.
Three weeks ago, the couple appeared on Today and Giuliana gave an optimistic prognosis. "I'm good," she said, adding she didn't need chemotherapy. "You do what the doctors tell you to do and it's going to be OK."
Bill, 40, also announced the two planned to renew their vows this summer—"and really take life on and look at it in a new light."
In addition to Giuliana's gigs on E! News and Fashion Police, the fifth season of Giuliana & Bill is rolling along on the Style Network, and just last week the Rancics confirmed they would host the Eva Longoria-produced dating series Ready for Love, slated to debut later this year on NBC. They also have a brand new Chicago restaurant, RPM Italian.
As Bill told us last December, "2012 is going to be our year."
Yes, indeed.
Congratulations, you two!
UPDATE 5:30 a.m. PT: Giuliana and Bill swung by the Today show this morning and shared the good news with cohost Ann Curry. "It was one of the best moments of my life, if not the best moment of my life," Giuliana said. "It's incredible. We've been trying for so long, we've been through so much...And to finally get that call from the doctor, it was just another world, another level."
"It was pretty emotional because this was our last stop," Bill added.
Giuliana said they found their "baby mama"—she laughed affectionately when Curry mentioned the term—through their IVF doctor in Colorado, who hooked the couple up with an agency that eventually helped them connect with a gestational surrogate.
When asked if they knew the baby's sex, the couple copped to a playful tease. "We do, but we're not telling anyone yet," Guiliana said. "We're seeing how long we can keep it a secret, so we haven't told anyone yet."
Bill, meanwhile, hopes their story shines a ray of hope on those struggling with the same challenges. "One of the things we've always tried to do is help others with our story," he said. "Whether it's with the infertility issues, whether it's with the breast cancer, we said we're gonna turn these negatives into positives. And if we can help others by sharing our story, then it's worth it."
(Originally published April 23, 2012, at 4 a.m. PT)