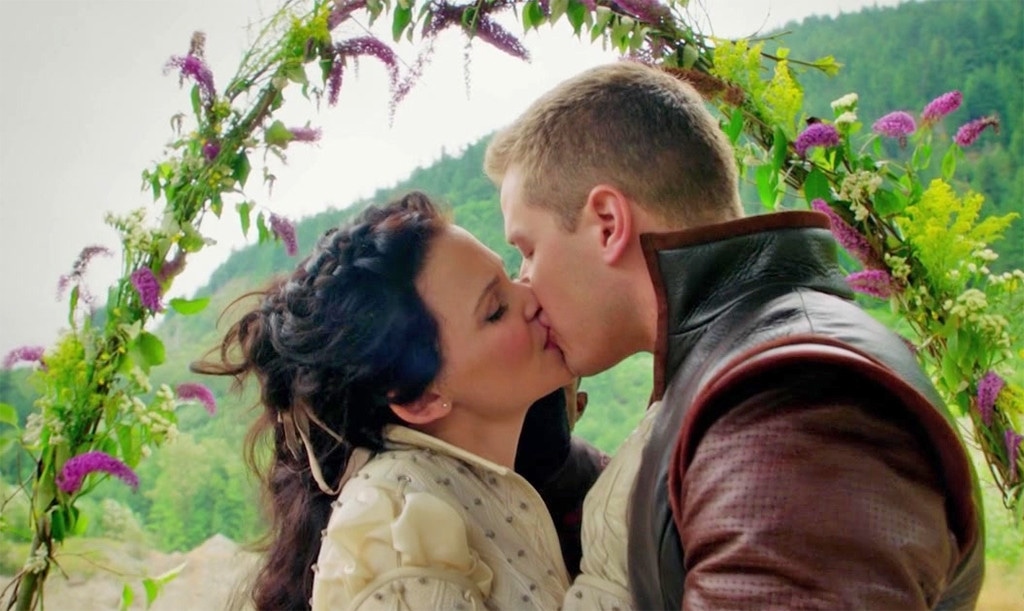 ABC
Once upon a time, Ginnifer Goodwin and Josh Dallas fell in love.
They weren't the first costars to meet their other half at work, but the fact that their romance blossomed on the set of a show called Once Upon a Time—while they played Snow White and Prince Charming, no less—does raise the swoon factor.
"It hit me like a blinding light," Dallas told People in 2012. "I thought, 'I'm in trouble now.'"
Goodwin later recalled on Live With Kelly and Michael: "I knew that in fact I was going to marry my husband Josh at Disneyland because I took him for his first time ever and we had just started dating. We were on Big Thunder Mountain and he threw his arms in the air and he goes, 'This is the best day of my life!' and I was like, 'We're totally getting married.'"
And it really was that easy. Almost.
When the whimsical ABC drama Once Upon a Time premiered on Oct. 23, 2011, the chemistry between Snow White and her prince was palpable, even in their modern-day guises as the similaryl meant-to-be Mary Margaret and David.
Watch:
Josh Dallas on Filming Without Wife Ginnifer Goodwin
And Goodwin and Dallas did have an "immediate connection when they met," a source explained to E! News  few months after the show debuted, but they denied being anything more than friends at first.
Matt Baron/BEI/Shutterstock
Goodwin was previously engaged to actor Joey Kern for five months, the pair first introduced by her He's Just Not That Into You costar Justin Long. They announced their split in May 2011. Meanwhile, Dallas had just separated from Sherlock actress Lara Pulver after four years of marriage. They met in 2003 doing a play together in London called The Boy Friend, got married in 2007 and moved to Los Angeles in 2009.
"So to begin with," the source said, Goodwin and Dallas started out as "just friends. They were shooting in Canada together and because they were both away from home, they inevitably started to socialize together off the set as well as on—and they got closer as friends."
But Dallas was apparently just that into his leading lady because, once he was available, "his connection to Ginnifer deepened and they fell in love."
(Pulver stayed in L.A. after the divorce was finalized in 2012 and ended up marrying Smash star Raza Jaffrey in 2014 (who coincidentally also appeared in a few episodes of the short-lived OUAT spin-off Once Upon a Time in Wonderland). They have a son, Ozias, together. Kern also got a storybook ending, marrying wife Gillian Rose and becoming a dad to two daughters.)
By March 2012, Goodwin and Dallas had moved in together—before they even made their red carpet debut the following month, at the White House Correspondents Dinner.
"The relationship has been full-on since the moment it turned romantic," our source said, "and they spend every moment together. There was no reason to wait and take it slow—they fell in love, and it feels right."
Dallas, who hails from Louisville, Ky., is "a really kind man, quite a gentleman at heart," the insider added, "and I think she really appreciated that he was more considerate than some of the other men in Hollywood. They have been very serious since the moment they got together, and their romance has been intensified because of the show. It all means they get to spend a lot of time together."
In their case, a lack of distance only made the heart grow fonder.
"It's definitely a plus that we get to spend so much time together," Dallas told E! News in November 2012. "I think it adds something; it adds a different dynamic to the characters that we're playing that we can bring to it. It's always a great day going to work with Ginnifer Goodwin; she's a fantastic actress and I learn so much from her. We just get to play, so it's nice."
He popped the question in October 2013 and, on the verge of welcoming their first child together, they tied the knot in April 2014. Son Oliver was born the following month, and they welcomed his brother, Hugo, in 2016.
Alberto E. Rodriguez/Getty Images for Disney
Being a mom "makes me feel like acting is not at all creative," Goodwin divulged to E! News at the 2015 People's Choice Awards, "but being a parent—anybody who's a parent I want to, like, give an Oscar to."
As for her husband, "He makes me laugh so much, and even if we squabble he makes me laugh, so I can't even stay angry—which is kind of its own level of frustrating. I want to be mad!"
Dallas was also a huge help when Oliver was born, with Goodwin telling Us Weekly when their eldest son was about 5 months old, "He also has not slept since mid-May. I'm always telling him, 'You can sleep,' but he won't, he always helps. He's my knight in shining armor."
He's also been her partner in keeping their family life super private, hearts covering the boys' heads when Dallas can't resist the occasional Instagram share, such as when he and Goodwin brought them to watch an LAFC match. "Start'em young! @lafc @mls all stars!" he captioned the father-sons pic snapped by his wife.
So, the kids you have seen on Dallas' Insta are likely from the fan-favorite supernatural drama Manifest, which will have its fourth and final season on Netflix after being canceled by NBC. Goodwin, meanwhile, doesn't even do social media.
But the actress, whose star turns include the bittersweet 2011 rom-com Something Borrowed, the award-winning HBO series Big Love and the current Paramount+ drama Why Women Kill, has no interest in leaving the fishbowl, even though it's not the easiest place to lead a private life.
"I want to continue on television when Once Upon a Time inevitably but unfortunately ends," the Memphis, Tenn., native told Metro in 2016. "But I'm going to refuse to leave Los Angeles after this. Our lives as actors are already bats--t crazy; our kids don't need to be uprooted from school. Once they enter school they'll stay in school. Otherwise they're not going to be normal."
Even though she wasn't a mom yet at the time, she had intentionally sought out a project like OUAT because, for all its harrowing moments for its heroes and heroines, it was overall a more family-friendly show than Big Love (its very big family notwithstanding).
"When I was on Big Love," Goodwin, who played one of Bill Paxton's three wives on the drama about fundamentalist-Mormon domestic life, said, "I suddenly realized no kid of mine would be able to watch that until he or she was much older. Then I started looking at all the other things I've done. I'm super proud of my career, but even the romantic comedies aren't family-friendly. I wanted to at least expand myself into the family-friendly world. That was a huge part of me taking Once Upon a Time."
When you know, you know.
"We met on that show, we fell in love, and seven years later, we're married and with two kids," Dallas reminisced on Live With Kelly and Ryan in 2018. And, he confirmed, there was no dillydallying. "We went straight for it," he said.
The actor added, "She's the greatest. I miss working with her every day. I think she was like, 'Look, we've worked together and we've lived together six years, give me a break.'" He smiled. "But I think we'll work together again, I hope so."
And when they have to be apart, "We FaceTime like 14 times a day," Goodwin told Us Weekly in 2018. Also, Dallas "sends a lot of flowers—or jam, because I like jam."
That, friends, is how you preserve a relationship.
Funny enough, after making a beloved show that had devoted fans of all ages, Goodwin purposely pivoted into darker territory, appearing on an episode of Jordan Peele's reboot of The Twilight Zone and starring in the first season of the slick anthology series Why Women Kill, as one of three wives (of three different husbands this time) driven to murder in three different decades—but in the same house. (And we kid you not, next up she's starring in a Fox sitcom called Pivoting.)
Daniele Venturelli/WireImage
"I had spent years making material that, like, my kids can see. So yes, I wasn't looking for that next," Goodwin told reporters at the 2019 Television Critics Association summer press tour. "I was definitely looking for something that my husband and I would watch together alone at night when the kids are definitely in bed." 
And while those kids have hearts for heads on Dad's Instagram, Dad has hearts for eyes whenever he publicly acknowledges Mom's many fine qualities, such as when he wrote on her birthday in 2018, "Intelligence is Ginny. Elegance is Ginny. Beauty is Ginny. Grace is Ginny. Funny is Ginny. My love is Ginny. Happy Birthday to the greatest I know."
On their April 12 wedding anniversary this year, Dallas again sang her praises: "My beauty, my Queen, my explosion of hope. Thanks for sharing your heart with me 7 years ago today. I love you more. The end. I win! #ginnifergoodwin #lover #love #anniversary."
"She's the greatest human I know, so that stuff is easy, it's easy to write that stuff," Dallas told Hoda Kotb and Jenna Bush Hager on Today in January 2019, explaining his romantic posts. Of when they first met, "I knew right away" he recalled. "It was that thing. I turned around and I saw her, and I knew I was in trouble from that moment."
The queen's consort also named a few of their secrets for a strong marriage: "Understanding, willing to be flexible. And just love. You've got to love and be willing to grow with that person—or let that person grow, too, and give them space."
But not too much. Asked if he could have dinner with anyone, dead or alive, Dallas picked Paul Newman for the former. And the latter?
His wife, "'cause she's a great dinner partner." 
And they lived happily ever after.
(Originally published Dec. 18, 2019, at 2:52 p.m. PT. E! and NBC are both members of the NBCUniversal family.)