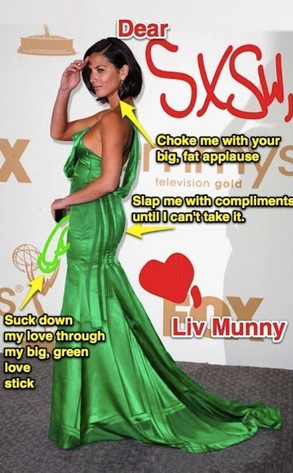 Courtesy of Olivia Munn; Jeff Kravitz/FilmMagic
Olivia Munn would like to formally take this opportunity to poke fun at herself.
The former Daily Show correspondent couldn't make it to the South by Southwest Film Festival this weekend for a screening of her new movie, The Babymakers, and alas, fanboys lost out on the chance to quiz her about the so-called nude photo scandal that she and Mad Men's Christina Hendricks found themselves in last week.
Instead, she's on the set of The Newsroom, the new Aaron Sorkin-produced HBO series. But never one to miss a dull moment, Munn posted a letter and accompanying marked-up picture of her own online addressing the controversy head on…through humor.