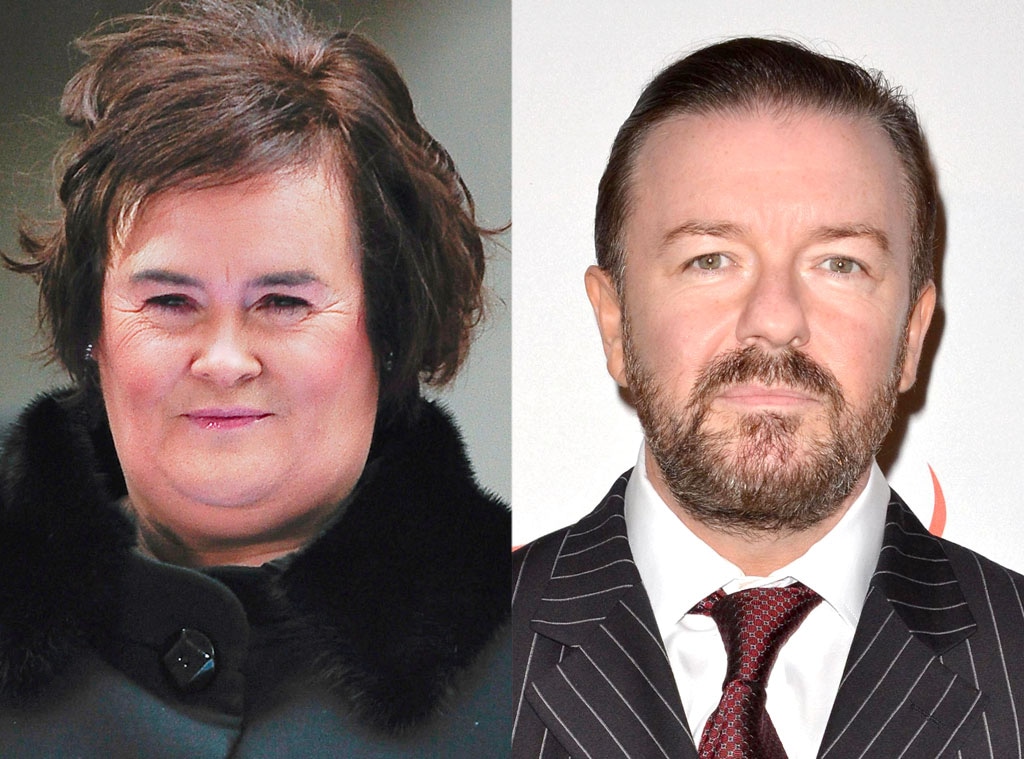 Ray Tamarra/Getty Images; Toth/PatrickMcMullan.com/Sipa Press
When Susan Boyle dreams a dream, we're guessing Ricky Gervais isn't a part of it.
That's because the singer, who became an international sensation when she first appeared on Britain's Got Talent, is now lashing out at remarks made by the comedian about her looks.
"I can take whatever Ricky says, because I'll tell you something. He's the one with the problem, not me," Boyle tells The Sun regarding Gervais' insult on a stand-up special that aired in Britain last October. "Ricky's a talented man, but he's wasted himself with those comments."
During the show, Gervais said Boyle looked like a "mong"—a derogatory term often used when referring to people suffering from Down Syndrome.
"I don't think she'd be where she is today if it wasn't for the fact that she looked like such a f--king mong. There is no better word to describe Susan Boyle," Gervais said in his routine. "When she first came on the telly, I went, 'Is that a mong?'"
While several viewers subsequently complained, it was determined in January that Channel 4, which had broadcast the special, had not breached guidelines on offensive content. At the time of the decision, Gervais reportedly insisted his use of the term "mong" was never meant to refer to Down Syndrome.
"The meaning of words change over time, 'gay' for example," he is quoted as saying. "The modern use of the word 'mong' means dopey and ignorant, it's in slang and urban dictionaries."
Ultimately though, Boyle doesn't seem to be letting any of it truly faze her.
"I've had a lot of insults," she said. "Do you know what I do? I ignore them. I just get on with my life. Those who have something to say usually have nothing to do."