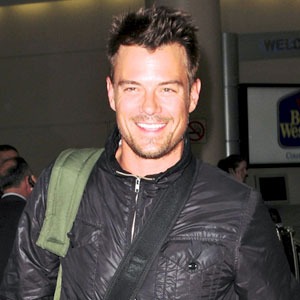 NPG.com
"I don't think anybody's doing it," Josh Duhamel told us last night at the launch party for Sony PlayStation's new PS Vita portable entertainment system. "I know Shia [LaBoeuf]'s not doing it. I don't think Tyrese or Rosie [Huntington-Whiteley] or anybody else is doing it."
Of course, Duhamel isn't surprised that Paramount Pictures is continuing the franchise.
"Whenever these movies make that much money they're going to make as many as they can," he said. "[But] I haven't heard anything about it. They haven't called me."
Producer Lorenzo Di Bonaventura recently told MTV News that the Transformers creative team plan to reboot the series with a new storyline, but did say that Optimus and Bumblebee will likely be back. It's expected to hit theaters in June 2014.
Also at last night's PlayStation party were Hunger Games hottie Liam Hemsworth (more on him later), Jessica Szohr, Pete Wentz, Harry Shum Jr., Chloë Moretz, Scott Porter, Patrick Schwarzenegger and Step Up 3D's Rick Malambri.
Now we want to hear from you. Psyched for another Transformers movie without the original cast? Or do you think it's time to pull the plug on the robot franchise?