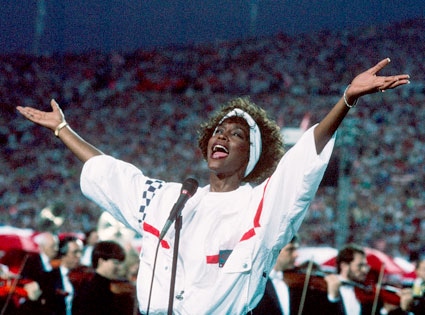 George Rose/Getty Images
A voice of a generation has been silenced too soon.
Whitney Houston, the soaring singer whose Grammy-winning, chart-topping career was derailed by drug abuse and a troubled personal life, including a tumultuous marriage to R&B star Bobby Brown, has died. She was 48.  
The news was confirmed to E! News by the singer's publicist, Kristen Foster.
Police in Beverly Hills, Calif., said the singer was pronounced dead at the Beverly Hilton hotel at 3:55 p.m. PT today. 
Houston was in Los Angeles for Grammys weekend, and, was tonight due to attend the annual pre-Grammy party hosted at the Beverly Hilton by her mentor, music mogul Clive Davis.
Last October, Houston's camp blamed exhaustion on a tiff the star had with a flight attendant during a trip to Detroit. The incident came a few months after Houston confirmed she was participating in an outpatient treatment program for drugs and alcohol. It was the singer's third stint in rehab. 
Also last year, the singer's rep batted down a report the star was battling emphysema, a deadly lung disease.
Houston's woes with substance abuse bubbled to the surface in 2000 when she was arrested for marijuana possession. A year later, her gaunt appearance at a concert marking Michael Jackson's 30th year in show business fueled a widespread rumor, in the unlikely wake of 9/11, that she had fatally overdosed.
In 2002, a very-much alive Houston told ABC News' Diane Sawyer that, yes, she had done drugs: alcohol, marijuana, cocaine and prescription drugs. She had "partied," she said, and the party was over.
"I am not self destructive," Houston said at the time. "I'm a person who has life, and wants to live."
Two years later, Houston entered rehab. She sought treatment again in 2005.
A 2009 comeback album, I Look to You, went No. 1, but a 2010 tour was plagued by canceled dates, and reports that a "dreadful" Houston appeared "disoriented" on stage.
Houston bounced back again in 2011, and worked on her first feature film in more than a decade. Sparkle, a remake of the 1970s singing-group drama, starring Jordin Sparks, completed filming last November. It's due in theaters in August.  
Houston's survivors include Bobbi Kristina Brown, her 18-year-old daughter with Brown, an oft-troubled figure himself, whom she divorced in 2007.
(Orignally published at 5:14 p.m. PT on Feb. 11, 2012.)