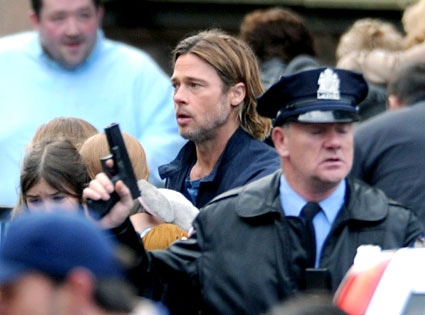 SWNS / Splash News
Here's what we'd like to know: since when do the living dead need guns anyway?
As one of the producers of the upcoming zombie epic World War Z, Brad Pitt would likely have had to answer for a massive arsenal of live, fully functioning automatic weapons from the film's Budapest set confiscated by Hungarian authorities who claim it could've fallen into the hands of illegal arms traffickers.
But the Hollywood star can now breathe a sigh of relief after Hungary's National Bureau of Investigations announced yesterday that it's dropping the case on a technicality.
Per Hungarian media, government investigators failed to identify exactly which "organization or person" had "ownership rights" over the huge cache that was seized by the national anti-terrorism task unit in October, thereby failing to establish which party was criminally liable.
Over 85 guns ranging from AK-47s to sniper rifles along with ammunition were stored in a customs-free area of Budapest's international airport. That is, until Hungarian SWAT moved in to lock them down since the country has a law against transferring such weapons, no matter that they were being used to stage fake zombie firefights.
But here's the funny part: while the bureau couldn't figure out who the owner was so they could press charges, officials there did contradictorily acknowledge to returning the firearms to "their owner."
Go figure.
A spokesperson for Paramount Pictures and Pitt's Production company, Plan B Entertainment, were unavailable to comment on the matter.  
World War Z, starring Pitt and directed by Marc Forster (Monster's Ball, Quantum of Solace), is slated to invade theaters on Dec. 21.