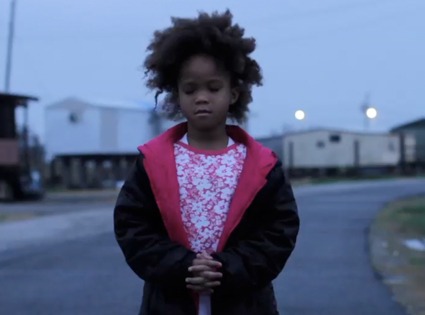 Sundance
All hail Beasts of the Southern Wild (drama) and The House I Live In (documentary).
The Sundance Film Festival dealt out its awards Saturday evening in Park City, handing the Benh Zeitlin directed drama and Eugene Jarecki directed documentary the top jury awards. 
Get the details on these champs and all the rest of the winners below...
Beasts of the Southern Wild, which was awarded the Grand Jury Prize for dramatic film and has been picked up for distribution by Fox Searchlight, tells a father-daughter bond tale of a six-year-old girl living with her dad in the flooded basins near the Mississippi delta. The House I Live In, which nabbed best documentary, focuses on the impact of America's long war on drugs.
Katie Aselton, who directed and starred in Black Rock, and Sundance Film Festival's director, John Cooper, who replaced a sick Parker Posey, announced the awards, also rewarding another top flick, The Surrogate, with an Audience Award and a prize for Best Ensemble. The Surrogate tells the story of a man in an iron lung (John Hawkes) who attempts to lose his virginity with the help of a sex surrogate played by Helen Hunt.
Check out the full list of winners:
Grand Jury Prize, Documentary: The House I Live In
Grand Jury Prize, Drama: Beasts of the Southern Wild
U.S. Directing Award: The Queen of Versailles, Lauren Greenfield
U.S. Directing Award: Middle of Nowhere, Ava Duvernay
Waldo Salt Screenwriting Award: Safety Not Guaranteed, Colin Trevorrow
Audience Award, U.S. Documentary: The Invisible War
Audience Award, U.S. Dramatic: The Surrogate
Special Jury Prizes, U.S. Documentary: Love Free or Die and Ai Weiwei: Never Sorry
U.S. Dramatic Special Jury Prize for Producing: Jonathan Schwartz and Andrea Sperling, Smashed and Nobody Walks
U.S. Dramatic Special Jury Prize for Ensemble Acting: The Surrogate
Shorts Audience Award: The Debutante Hunters
Excellence in Cinematography, U.S. Documentary: Chasing Ice
Excellence in Cinematography, U.S. Dramatic: Beasts of the Southern Wild
U.S. Documentary Editing Award: Detropia
Best of Next Award: Sleepwalk With Me
Alfred P. Sloan Feature Film Prize: Robot and Frank and Valley of Saints
World Cinema Jury Special Prize, Documentary: Searching for Sugar Man
World Cinema Documentary Editing: Indie Game: The Movie, Lisanne Pajot and James Swirsky
World Cinema Jury Prize, Documentary: The Law in These Parts, Ra'anan Alexandrowicz, director
World Cinema Dramatic Special Jury Prize: Can, Rasit Celikezer, director
World Cinema Cinematography Award, Drama: David Raedeker, My Brother the Devil
World Cinema Cinematography Award, Documentary: Lars Skree, Putin's Kiss
World Cinema Directing Award, Documentary: Emad Burnat and Guy Davidi, 5 Broken Cameras
Shorts Audience Award: The Debutante Hunters, Maria White, director
World Cinema Audience Award: Searching for Sugar Man