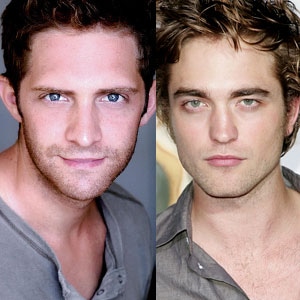 Jason LaVeris/FilmMagic
There is news now that a Twilight musical is in the works. How does such a book become a musical?
—Sapphire Vial, via Twitter
In this case, it doesn't. Yes, if you check out the official Web site for the upcoming Twilight: The Musical, you will see that such a project is in the offing. It's coming on Monday, but only for one day, and only in New York.
But if you're looking for a faithful stage presentation of Edward the undead stalker and his doormat girlfriend, you may be disappointed:
Because Twilight: The Musical is a parody. It has no affiliation with Stephenie Meyer, Summit Entertainment, Kristen Stewart, Robert Pattinson or any of that. Instead, this is described to me as a loving, one-night-only send-up of the saga. The main role of Edward will be played by an actor named Colin Hanlon; and the whole production benefits a children's charity called Blessings in a Backpack.
So what can ticket holders expect?
Show creator Ashley Griffin tells me that she thought of the idea while reading two things simultaneously: the Twilight saga and a book called Counterfeit Gods.
"It's about the culture of obsession, and they both inspired me together," Griffin tells this B!tch, "but it's a really fun parody. If you love Twilight, you are going to love this musical, and if you hate Twilight, you will love this musical."
Particularly, Griffin says that the show will poke gentle fun at obsessive teen love which, "is very real, but, when you look back in hindsight can be a little overly intense."
Sound like just your cup of blood? Too bad. According to Griffin, the show is already sold out.
"It sold out in less than 24 hours," she tells me. "We hopefully will know more soon, we will know more after Monday and will keep you posted."
Until then, you'll just have to settle for the available Twilight movies on DVD. Or wait until Broadway catches on with a big-time Twilight production. You'd see that, right?