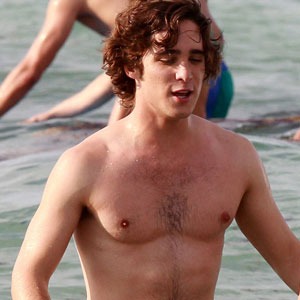 Ralph Notaro / Splash News
How sad were we when news broke that production of the much talked-about Paradise Lost movie was being postponed because of money problems?
Not only were we excited at the casting of Bradley Cooper as Lucifer, but...
One of our new faves, Diego Boneta, had been cast as Adam to Camilla Belle's Eve.
"Who knew the first man on earth was Mexican?" Boneta cracked when we recently caught up with him in L.A. "When I booked the part, I was very happy, but my dad had a big smile on his face. He kept smiling.
"I said, 'Dad, why are you so happy? What's up?' He goes, "Well, if you're Adam, then what does that make me?'"
Good point, Papa Boneta!
Hopefully the movie's delay doesn't mean Boneta, 21, has stopped getting in shape for his role. "It's 10 weeks of training," he said. "I have to gain 15 pounds of muscle. It's crazy dieting and training every day for at least an hour and a half. I have to be ripped."
Unlike his upcoming breakout role opposite Julianne Hough in the Rock of Ages, Mr. Boneta will not be showing off his musical chops in Paradise.
"There's no singing," he said. "Just a lot of running around naked."
Director Alex Proyas was scheduled to start shooting next month but Legendary Pictures put the brakes on it because of budgetary concerns. They're apparently trying to rework things with hopes of kicking off production in Australia in the late spring or early summer, according to Deadline.