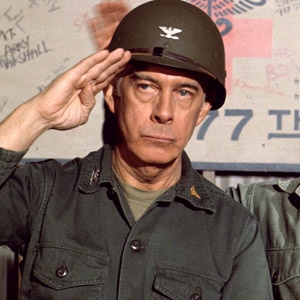 CBS
Colonel Potter, we salute you.
Harry Morgan, the Emmy-winning actor best known for playing the caustic but beloved commander who oversaw those lovable goofball doctors on CBS's M*A*S*H, died Wednesday. He was 96.
Morgan's son, Charles, confirmed his death to the New York Times, saying the actor had been battling pneumonia.
With his cutting wit and deadpan quips, Morgan was an instant hit as Col. Sherman T. Potter, a career soldier who assumed command of the 4077th Mobile Army Surgical Hospital unit in Korea at the start of the seminal series' fourth season after McLean Stevenson's character, Henry Blake, was killed off. Potter quickly earned the respect of Alan Alda's Hawkeye and the rest of the M*A*S*H cutups, known for his wry smile and paternal concern for his squad.
Morgan played Potter for the next seven seasons up through the show's record-setting 1983 finale, the most watched in tube history, and beyond in AfterMash, a short-lived spinoff that lasted little more than a year before it was canceled.
The role nabbed him an Emmy Award for Best Supporting Actor in a Comedy Series in 1980.