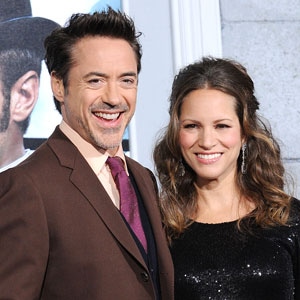 Jon Kopaloff/FilmMagic
It's a happy holiday season for Robert Downey Jr.
Not only is he celebrating the release of new flick Sherlock Holmes: A Game of Shadows, he announced earlier this week that he and wife Susan Downey are expecting a baby boy!
But did revealing the sex of their baby-to-be while chatting with Jay Leno on The Tonight Show get him in trouble with the missus?
"I can never really stay mad at him, but I can tell you it wasn't something that we had planned to reveal," Susan told us last night at the Game of Shadows premiere. "I was over at Warner Brothers [studio] which is around the corner from Leno and he came through and he immediately admitted it. I was like, 'Really?!'"
The 46-year-old actor may want to zip it until Susan gives birth.  "If I told you the name, she would lop off my head with a machete," he told us.
Susan also shot down RDJ's comment to Leno that the pregnancy has been "tougher" on him.
She laughed, "Who's the actor in the family?"
Now that we have all that cleared up, back to the movie. So can we expect Downey to team up with director Guy Ritchie for a third Sherlock Holmes flick?
"I love making these movies with Rob," Ritchie told us. "He is a creative maelstrom. He's hard to control. He's tumultuous. We have a love-hate relationship, but I do love making them with him."