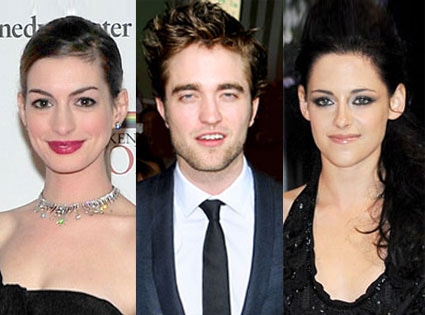 Ron Sachs-Pool/Getty Images; Dave M. Benett/Getty Images; JPegFoto/ AP Images
Advice to Tinseltown thesps looking to get on this latest Forbes list?  Get a franchise.
Twilight stars Kristen Stewart and Robert Pattinson and Alice in Wonderland's Anne Hathaway are among the A-listers topping the magazine's new "Hollywood's Best Actors for the Buck" rankings.
So who's joining them among the big screen's most valuable players?
To create the latest rundown, Forbes calculated the estimated earnings of each star from its Celebrity 100 list, including upfront salaries, backend points and DVD sales from their last three movies in the past five years, relative to those flicks' box office returns. The survey counted films that opened in more than 500 theaters, excluding animated pictures (for which the actors who contributed voice work aren't considered the draw).
The goal? To determine who had the best bang for the buck as shown by the final number, which represents an average of how much a studio earned for every dollar paid.
Predictably, talent who headline lucrative high-profile series like Twilight and Harry Potter came out ahead.
Coming in at No. 1 on the list was Stewart with an average return on investment of $55.83—that means that for every $1 the actress was paid, her films tallied $55.83.
Not bad for a girl who just turned 21.
K.Stew was followed in second place by Anne Hathaway, who averaged $45.67 and proved the exception to the franchise rule. Her number was largely based off roles in one-off hits including Tim Burton's Alice in Wonderland,  which grossed over $1 billion worldwide, and Valentine's Day, which netted $216 million globally.
Despite playing opposite Stewart in Twilight, Pattinson came in third with an average BFTB of $39.43 due to the middling returns of Remember Me and Water for Elephants.
Radcliffe meanwhile took the fourth spot with $34.24 for Harry Potter's spectacular box-office run; the Transformers trilogy's Shia LaBeouf rounded things out in fifth place with $29.40 (even though Transformers: Dark of the Moon wasn't counted, as Forbes only tabulated movies released before May 1, 2011).
But youth didn't totally dominate the rankings: a number of Hollywood veterans also flexed their earnings muscle, among them a trio of Oscar winners. For a complete list of the top 10, check out Forbes.com.