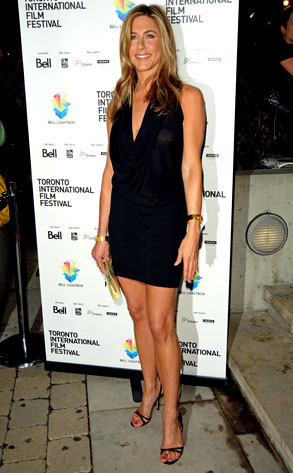 George Pimentel/Getty Images
• Jennifer Aniston (Management) couldn't manage her feelings towards Brad Pitt (Burn After Reading). She canceled reservations in one hotel she considered too close to him and relocated to premises further away. Aniston's privacy was also protected by her main PR man Stephen Huvane, who spread his jacket in front of her to block any underwear shots during her limo exit.
• The premiere of Burn After Reading turned the normally cool Toronto crowd into a blazing mob of young girls hot for Pitt, who signed autographs on any material offered. The Bradulation overwhelmed costar Tilda Swinton, who felt compelled to apologize to the crowd: "I'm sorry I'm not Brad!"
• MIA from the Burn After Reading screamathon was Pitt BFF George Clooney, in Milan filming a Japanese commerical for Honda.