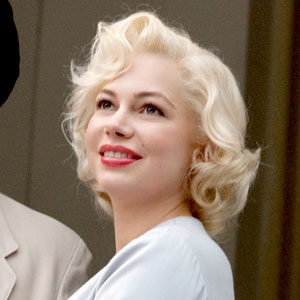 Laurence Cendrowizc/The Weinstein Company
Michelle Williams knows her portrayal of Marilyn Monroe in the upcoming My Week With Marilyn would make the iconic blond bombshell proud.
Um, how would she know that?
Monroe has apparently given her stamp of approval from beyond the grave...
"While we were filming, something came out in the National Enquirer that a psychic had spoken to her and that she approved of what we were doing and she thought I was doing a really good job," Williams told us at the Hollywood Film Awards at the Beverly Hilton Hotel. "So maybe she likes it!" (Guess this is one of the rare cases when a celeb actually likes getting some ink in the supermarket tabloid!)
Perhaps Monroe allowed the 31-year-old Oscar nominee to channel her offscreen speaking voice.
"I studied tapes," Williams said. "There's really nothing that exists of her, that I could find anyway, that exists of her having a conversation with a friend...So there wasn't a template that existed for her everyday vocal pattern, so at a certain point you have to make it imaginatively."
Whether it was through research or imagination, Williams obviously nailed the late Hollywood legend's signature style.
"I do remember one moment of being all suited up as Marilyn and walking from my dressing room onto the soundstage practicing my wiggle," Williams recently told Vogue. "There were three or four men gathered around a truck, and I remember seeing that they were watching me come and feeling that they were watching me go...I thought, 'Oh, maybe Marilyn felt that when she walked down the beach.'"