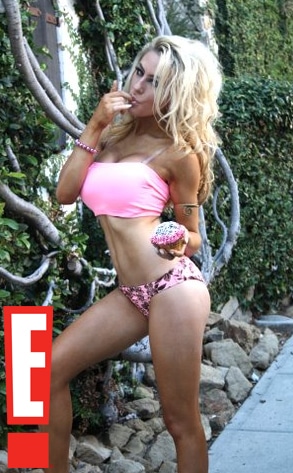 Courtesy of Courtney Stodden and Doug Hutchison
Facebook is where the teenagers go to post pictures of themselves partying and looking sexy in bikinis and stuff, right?
But Courtney Stodden, who made media waves in June by marrying 51-year-old actor Doug Hutchison at the eye-popping age of 16, woke up today to find that yet another one of her fan pages had been yanked down by the powers that be at the social networking site.
According to Courtney's mom, her daughter didn't post any naked pics (not even a nip slip!) or any other inappropriate material. But Krista Keller says she knows why her little girl has been singled out.
"It's the jealousy from the women towards her," Keller exclusively tells E! News. "The men love her, the women hate her.  The women report the photo because it's so easy to do. You just click a button. They think she's too sexy, they all report her together, and it's done."
That's a theory, for sure.
"On any Facebook page, people can report it for inappropriate content," Keller says. "There is nothing on her page you wouldn't find anywhere on Facebook!  She has never done any nudity.  Not a breast, not even a butt cheek. It's just her in a bathing suit!"
But now, Keller tells us, when the now-17-year-old Courtney tries to log in, a message pops up informing her that she has been denied access due to inappropriate sexual conduct.
"A lot of men and young girls love her page, but when the wives see their husbands on her page, they team up to get Courtney kicked off!" Keller adds. "When Facebook gets enough reports on one page, it locks her out."
Keller says that Facebook has yanked Courtney's access 8 or 10 times now and has never once answered the teen's monthly requests to look into the problem.
Courtney apparently tried setting up another page yesterday, to see how long it would take for Facebook to lock her out. She linked to it from her Twitter page and, "before she knew it," it was gone, Keller says.
"Usually it takes a week or two before people shut her Facebook down, but this time it didn't even take a day!"
Keller says that guys seem to mainly write nice things about her daughter on Facebook, and that it's the gals who write the mean stuff.
On a still-functioning page that appears to have been set up in August, one (female) Facebook user wrote on Courtney's wall, "you are so disgusting btw," followed by "slut."
Cyberbullying obviously knows no boundaries. Celebs like Lady Gaga, who vowed to take the issue up with President Obama and get bullying classified as a hate crime in the wake of a fan's suicide, have taken up the cause, recording "It Gets Better" messages and other PSAs to encourage kids to stay strong and seek help.
Stodden, too, has addressed online bullying in an interview posted to her YouTube channel.
"It's ridiculous!" Keller exclaims. "She's dealt with bullying in Ocean Shores, Washington, she's dealt with it in Hollywood, and now she's dealing with it globally.
"All the comments from the guys are really good, but the women just call her a slut and a whore. She's just too sexy for Facebook!"