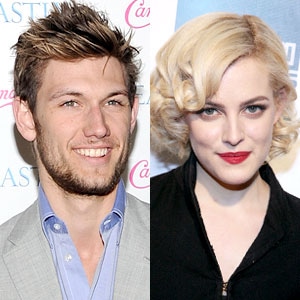 Angela Weiss/Getty Images; Rob Kim/FilmMagic
Looks like there's a little extra magic brewing on the Magic Mike set.
And by "magic" we mean some serious off-set smooching between Alex Pettyfer and costar Riley Keough, who were seen kissing at LAX while waiting for a flight together. 
So are they or aren't they an item?
Oh they are, if you're askin' Alex, 'cause according to our Magic Mike sources, good-ol Al "wants to be all over" the sexy starlet. 
Reps for Alex and Riley have not commented, as yet.
But who can blame handsome Alex! Girl is looking très chic these days, and we know Alex has a thing for gorgeous blondes (remember, Dianna Agron?).
Seems like Alex is quite smitten with this gal. The dude who is "afraid of flying," say our M.M. insiders, and who was considering "driving from L.A. to Florida for 48 hours straight" suddenly decided to hop on a plane with his stunning costar! Ah, see what love can accomplish?
So did Riley calm Pettyfer's nerves or perhaps hold his hand during the flight?
Looks that way, and according to our sources, Magic Mike insiders are insisting Riley's "a total doll, and [Alex and Riley] are lovers in the film."
And as we originally told you, these two were costars in the oh-so-sexy flick and we're loving that they seem to be taking their relaysh offscreen. 
A Channing Tatum strip-tease plus a Pettyfer-Keough romance? It's almost too much magic to handle.