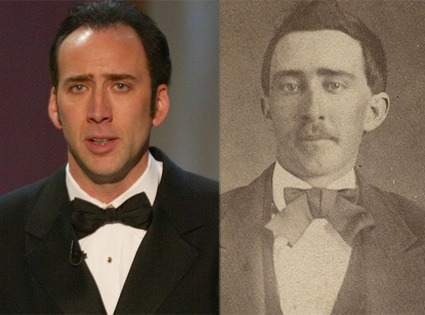 Kevin Winter/Getty Images; The Thanatos Archive
While he starred in a movie called Vampire's Kiss and played a demonic crimefighter in Ghost Rider, is Nicolas Cage really a bloodsucker in real life?!
If you ask the antique dealer who's auctioning off a Civil War-era photograph on eBay of a man from Bristol,Tenn., bearing an eerie resemblance to the Oscar winner, the answer is...
So true! If you believe such bedtime stories, that is.
"Personally, I believe it's him and that he is some sort of walking undead vampire, et cetera, who quickens/reinvents himself once every 75 years or so," writes the seller, Jack Mord, who is asking a whopping $1 million as a starting bid for the pic. "150 years from now, he might be a politician, the leader of a cult or a talk show host."
Or maybe a cryptologist-cum-treasure hunter or a vigilante Hell's Angel?
In fact, the collector revealed that the antique memorial photo is a portrait of Lieutenant G.B. Smith, a Confederate prisoner that was taken in 1864 at Johnson's Island prison camp in Ohio.
So it's not Edward Cullen material, but we'll admit the resemblance is startling.
But something tells us the 2011 Cage is aging too quickly to be a modern-day Lestat.
Though that didn't stop Mord from humorously speculating in the Q&A portion of the listing about the thespian's purported Transylvanian roots before he removed the auction for unexplained reasons.
"My theory is that he allows himself to age to a certain point, maybe 70, 80 or so, then the actor 'Nicolas Cage' will 'die'...but in reality, the undead vampire 'Nicolas Cage' will have rejuvenated himself and appeared in some other part of the world, young again, and ready to start all over," writes the dealer. "From time to time somebody might mention to him that he bears a slight resemblance to the young version of that dead American actor, whose name they can't recall, but eventually, those occurrences will stop altogether."
We'll let you be the judge as to whether Cage's rebel doppelgänger means vampires really exist.
Eat your heart out, Tom Cruise!