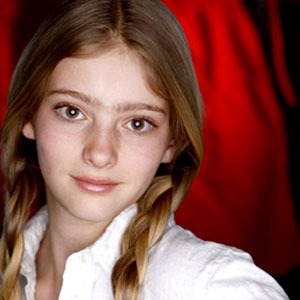 Hunger lovers alert! Lionsgate has announced casting for Primrose Everdeen, little sister to Katniss Everdeen and the fourth character cast in the Hunger franchise. 
In The Games, Katniss describes Primrose as having a face "as fresh as a raindrop, as lovely as the primerose for which she was named."
Now, we know casting directors are thrilled over the current Hunger Games cast, so who did they find worthy to play little sis to Jennifer Lawrence?
Fresh-faced Willow Shields will take on the role, and we think she looks perfect for the part! Her innocent face and delicate features make Willow the ideal Prim, and her blonde eyes and fair skin perfectly match the novel's description. 
The Hunger Games cast is already made up of hot Hollywood talent, including Lawrence, Josh Hutcherson and Liam Hemsworth, so no doubt, the casting directors didn't want to disappoint. 
Lucky for fans, director Gary Ross thinks Willow couldn't be better for the role of Prim:
"It's so exciting to find an amazing young actress like the one we just met. Prim is an emotionally demanding role, and in many ways, she is the cornerstone of the story. Willow Shields will make an amazing Prim and we're very lucky to have her."
So are we! This franchise keeps churning out talented hotties, and we can't wait to see the sisterly dynamics between Jennifer and Willow. 
We think this marks another Hunger Games casting success, but now the pressure is really on for the next District 12 member. 
Thoughts on who it should be?