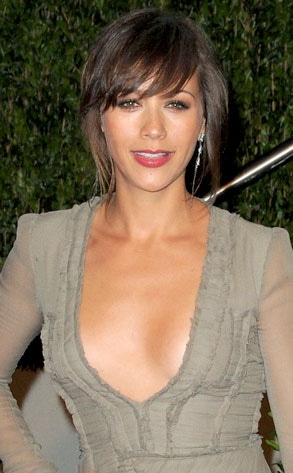 Jordan Strauss/Getty Images
Rashida Jones is the perfect catch. She's beautiful, talented, smart (she went to Harvard, people!) and her parents are music maestro Quincy Jones and model turned actress Peggy Lipton.
But there's one hitch, fellas—Rashida may not be the marrying kind.
"Things are changing so much," Jones says. "Especially this country, we have kind of failed with marriage. We're so protective of this really sacred but failed institution. There's got to be a new model. I don't know what it is, but maybe it's like 10 years with a lease to buy or rent to own."
The Parks and Recreation star has good reason to be talking relationships. Her new movie Monogamy (out on Friday) is about an engaged couple (Jones and Julie & Julia star Chris Messina) on the verge of getting married but dealing with the question of infidelity.
So does Jones believe in monogamy? Read on to find out. Plus, what she told me about pursuing a music career, acting opposite Kermit the Frog and the hotness of Garrett Hedlund and Andrew Garfield...
Do you believe in monogamy?
I do for some people. I don't know if I believe in it for everybody.
So when are you getting married?
Maybe never? [laughs]. Marriage doesn't really buy you anything. I mean, Chris Messina, who is my costar in this movie, is with my very close friend [producer Jennifer Todd]. They're not married, but they have two kids and they're wildly happy. It doesn't buy you anything. It just buys you a really big s--tty pageant of a wedding to make other people happy.
OK, now we have to talk about Garrett Hedlund and Andrew Garfield. You posed between both of them on the cover of the Hollywood issue of Vanity Fair.
I know! Flanked by hotness, right? Just flanked by hotness!...I'm friends with both of them. But I could be their moms. No, I couldn't be their moms, but I am older than them which made it excellent that I was romantically linked to Garrett, which I'm not. Yeah, they're both adorable and extremely talented.
Obviously, music has been a big part of your life. Did you ever think of pursuing it more full-time?
I did. I absolutely did. I have a lot of reverence-slash-fear about music because obviously I have a living legend as my father. Music breaks my heart constantly. I almost can't even talk about it I love it so much. So that being said, there are so many things I love about it in terms of performing and writing, but I'm not sure that I'm ready to share that with the world. I'm just not quite ready. At some point in my life, I want to lock myself away and make an album just for myself.
Do you share it with your dad? Do you work on music together?
Yes. I auditioned for Moulin Rouge years ago for the Nicole Kidman part. They originally wanted that part to be younger. You had to sing a song and I decided I wanted to sing and play a song. I wanted to play this arrangement of "Somewhere" from West Side Story that my dad had done for Aretha Franklin. So he taught me the whole arrangement on piano and helped me transpose it to the right key for my voice. It's one of my best memories.
Maybe we'll see a musical episode of Parks and Recreation.
Oh my God, we're like seasons away from that. They're just doing that on Grey's Anatomy and it's like season seven or something.
You're in the new Muppets movie. Who's you're favorite Muppet?
It shifts a lot. It was Fozzie, but I worked a lot with Kermit and Steve Whitmire, who plays Kermit. And they also let me do some puppeteering. I got to do some extra work because they needed an extra hand. It was a no-named puppet that I named Doris. She was in the orchestra.